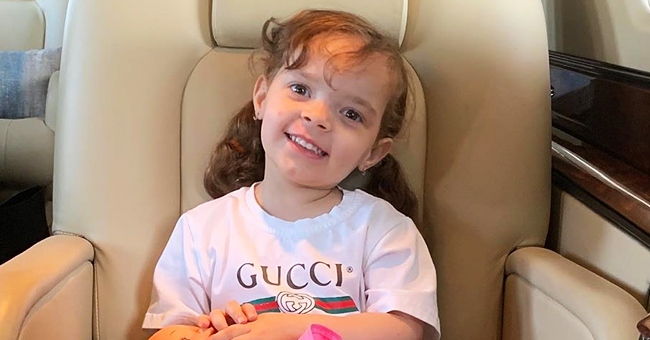 instagram.com/icet
Ice T's 3-Year-Old Daughter Chanel Joins Dad on Stage in a New Video

Ice-T's little girl, Chanel Nicole, joined him on stage at a recent concert, proving that although she's a child, she is not shy of crowds.
Although daughters are supposed to take after their mother's mostly, Ice-T's daughter, Chanel Nicole, took after both her parents.
THE 3-YEAR-OLD ROCKSTAR
The little girl recently joined her father on stage at a concert, proving that although she's a child, she is not shy of crowds.
In a video shared by Ice T on Instagram, Chanel, dressed in an army green outfit ran from where she stood in front of her mother, Nicole "Coco" Austin, to meet her dad on stage at the end of a performance.
The little girl's exuberance and confidence excited the crowd who cheered for her loudly, and the proud father captioned the video:
"My little girlfriend showed up on stage last night."
The video has gotten over a hundred thousand likes, and one follower who loved Chanel's bravery wrote:
"Baby Chanel is a future #Rockstar. I love how she is owning the stage with ease; this right here is cuteness."
Another follower wrote:
"Love her; such a rockstar herself."
SHE IS ALSO A SOCIAL MEDIA QUEEN
Ice-T's little girl looks a lot like her dad, and in 2018, she equally joined the actor on stage during a performance. She captioned the photo she shared of the two of them on Instagram sayting:
"Just a normal day on stage rocking with daddy."
The little rockstar is also a social media queen and a little fashionista. Her Instagram page displays pictures of her fashion choices, and Coco once told "E! News" that her little girl likes to dress up and pose for the camera.
Chanel also loves having her mum to herself, and the "Ice Loves Coco" star equally told the news outlet that her little girl would be jealous if she and Ice T gave her a sibling, so they are putting it off for now.
A TIDBIT ON ICE T
The little girl is Ice-T's third child — he has two grown-up children from previous relationships — and he's given her a life better than the one he had growing up.
The actor's life changed after he lost his parents within years of each other, and he had run-ins with the law before he cleaned up his act, went into music, acting, and reality TV.
Today, the Grammy winner is best known for starring in "Law and Order: SVU" as "Fin Tutuola." The show got renewed for a historic season 21 in March and will premiere on Thursday, September 26, by 10 pm.
Please fill in your e-mail so we can share with you our top stories!