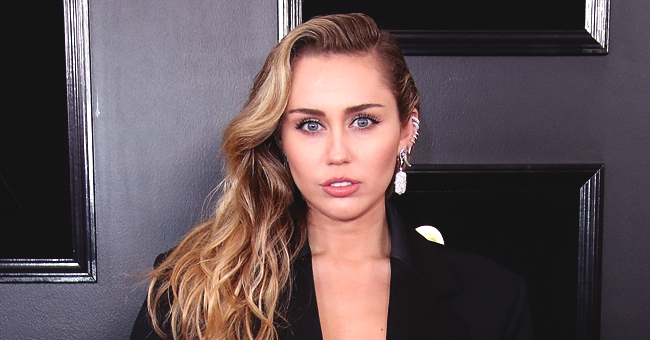 Getty images
How 6-Year-Old Miley Cyrus Stole the Show with Her Funny "Why Baby Why" Performance
Young and delectable superstar, Miley Cyrus's singing video as a young girl is nothing but adorable!
6-year-old Miley was captured during her rendition of the George Jones song "Why Baby Why." The clip was on the Cyrus Family Rares YouTube Page, and it earned over 141k views, with 1k likes and only 12 dislikes.
Little Miley, who was born Destiny Hope Cyrus, was first introduced by her father, who is an iconic country star, Billy Ray Cyrus, as he proudly brings her in front of the audience. In his words:
"I think Mikey's got something special for y'all. Now folks, stand back. Because you're gonna, get something here that you just can't find anywhere else but Thompson Station."
The 49 seconds clip featured the Tennessee native singing happily "Why Baby Why" while she vibed to the tune by shaking and nodding her head at Thompson station, Tennessee during a show. At the end of her performance, the crowd could not curtail their admiration for the young singer as they applauded her.
Her other siblings were at her side to show support. The youngsters, Trace, and Braison who were also introduced by their father giggled beside their sister.
Years later, and Miley has become a force to reckon with in the entertainment industry, and has a net worth that runs into millions of dollars.
The name "Miley" stuck to her as a child because she smiled often, and she was first called "Smiley." Although it was in 2008 that she adopted the name officially, after legally changing her name from Destiny Hope Cyrus, to Miley Ray Cyrus.
The apple doesn't fall far from the tree, as the singer chose to tread in her father's pathway. Billy, who had an acting career, appeared in the drama "Doc," and he influenced his daughter's career choice. Miley chose to pursue a career in acting and singing just like her dad.
She first started by earning a role on "Doc," then she went on to star in Disney's Channel production, "Hannah Montana." She played the lead role as Hannah, and her dad, Billy featured as her father in the movie.
The "Hannah Montana" star also appeared in a series of hit movies like "LOL," and "The Last Song." Her singing prowess is highly recognizable, as she featured as a judge on the talent show, "The Voice" in 2016, to replace a legendary and prominent singer, Gwen Stefani.
In terms of singing, the young Cyrus knows her onions, as she has released over five albums. In 2017, she made waves with her "Younger Now" album. Miley references Britney Spears as her role model, and award-winning Country music queen, Dolly Parton is Miley's godmother.
As a young girl, she was able to capture the hearts of many with her stage performance; she maintained this act and has grown so prominent over the years. Kudos girl!
Please fill in your e-mail so we can share with you our top stories!