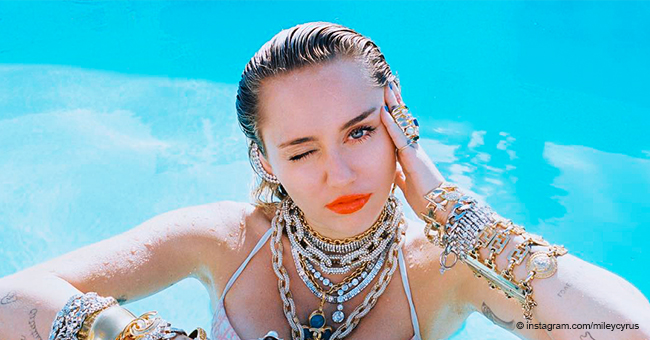 Miley Cyrus Celebrates Friday in Barely-There Bikini and a Jacket Slipping off Her Shoulders
Miley Cyrus is known to seize all opportunities when it involves flaunting her figure. It was Friday, and the pop star showed us an excellent way to kick off the weekend!
The Hannah Montana star, in a black and white picture, flaunted her stunning body. She wore a Chanel bikini that left very little to the imagination. It showed a reasonable amount of cleavage and showed her gorgeous side tattoo.
The star barely wore a jacket that wasn't intended to cover up any part of her incredible looking body. The exquisite combination of her "hot" figure and bikini would leave you stuck on her page and liking the image more than once. She also rocked her famous blond hair and even adorned with a couple of necklaces and rings.
The 26-year-old shared the picture on her Instagram page to her over 90 million followers, and the post has since gained over 2million likes. The photo was taken for her upcoming feature for "Von Magazine."
A couple of months ago Miley sparked pregnancy rumors when she posted a photo from "The Last Song" on her Instagram story, which was where she and husband, Liam Hemsworth met nearly a decade ago.
In the picture, the couple could be seen in a side hug and looking straight ahead in what seemed like they were staring at something. Miley captioned the photo:
"Our child would be so f*ckin extra lol."
In January, she later responded the warranted rumor with the message,
"I'm not 'Egg-expecting,' but it's 'Egg-celent' to hear everyone is so 'Happy For Us'...we're happy for us too! Now, can everyone leave me alone and go back to staring at an egg"
Of course, it was a punny response to that Instagram record-breaking egg that was trending in January, in case the last part of her response was somewhat unclear. She continued with her joke,
"To be honest; if I had to shut down rumors of being pregnant every time I had a large meal, which happens quite a bit, I would be exhausted."
The response shows that Miley was more understanding of the situation than most would, and of course, she and Liam will make adorable babies.
Please fill in your e-mail so we can share with you our top stories!