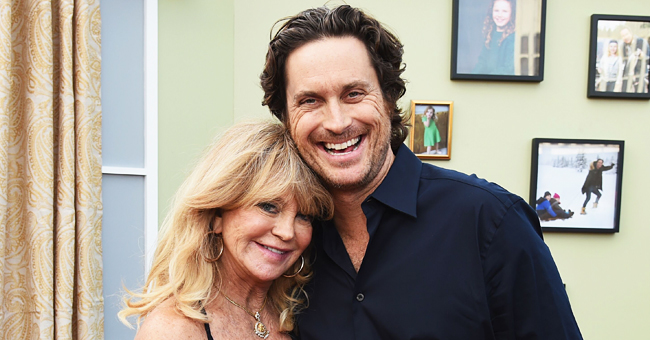 Getty Images.
Inside Goldie Hawn's Relationship with Her Son Oliver Who She Nearly Lost at 1-Day-Old

Goldie Hawn revealed that the healing power of prayer saved her first son, Oliver after birth complications almost took his life at a day old.
Married to her second husband, Bill Hudson at the time, Goldie suffered from toxemia right after Oliver's birth while he got taken to the NICU due to complications.
The actress got wheeled upstairs to see her "eleven pounds of a hunk of love" and shared how she "connected with the universe," hoping that God would answer her prayers. "I put my hand on him, and I asked God, I said, 'Come through me, use me to heal my son,'" Goldie recalled.
Then Oliver's heart rate started going up and confirmed to Goldie that prayer could work as she added, "I'm a very spiritual person. I'm not a religious person, I was raised Jewish, and I like my tribe, but that was a beautiful thing. It was phenomenal. I just emptied myself. I don't know how to explain it."
In May 2017, Goldie gushed about Oliver to PEOPLE. As an adult, he followed in his mother's acting footsteps and became a father of three children. "He's the greatest, most handsome, amazing father, actor, comedian, human, son," she said. "I mean, he's such a gift. They're all gifts, all my children."
During a talk with Andy Cohen in 2017, Goldie answered a question about a naked butt photo Oliver posted on Instagram two years before in an unexpected way. The conversation quickly turned from Oliver's "nice tuchus" to the time Goldie had him circumcised.
"When I had him circumcised, the doctor came out and said, 'You'll be happy to know we had to get a bigger clamp.' I was thrilled. I mean, honest to God, a bigger clamp. Of course, I was crying too because I knew he was going to cry. I mean, you know, it's a whole other thing. It's a double-edged sword, so to speak," she told Andy.
The following year Oliver revealed to Busy Tonight why he is comfortable showing nudity on social media. "I grew up in a naked house, my family -- we were all naked," he said.
While Oliver has a great relationship with his mother, he and sister Kate can't say the same about the relationship with their estranged father, Bill.
In 2015, Oliver shared a throwback picture of himself with his sister and their father on Father's Day with the caption, "Happy abandonment day @katehudson."
However, Bill responded vehemently to Oliver's post and publically disowned them both and asked that they stop using his last name.
Please fill in your e-mail so we can share with you our top stories!