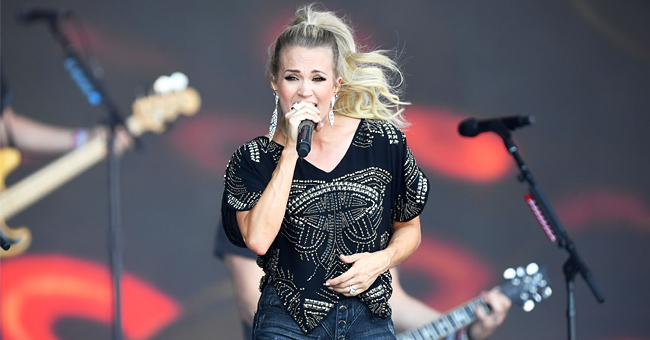 Getty images
Carrie Underwood Looks like an 80-Year-Old Granny in New Photo with Her Husband
The iconic singer Carrie Underwood looks like an older woman who has grandkids beside her husband, in a recent Instagram upload.
The mother of two newly posted an image with her husband, Mike in the course of anhsh outing. The couple happens to be new participants of the popular app that tranforms your facial features into something different, from old to young.
The singer looked super-aged in the post, but it didn't blur the fact that she looked beautiful as her hair slightly drooled on the side of her face. She also had big round earrings, and a sassy looking smile garnished with makeup.
Next to her was her beau, in a white beard, and white-grey moustache. Both of them seemed happy in their "old-looking-self" and wore lovely smiles.
The award-winning songstress captioned her upload:
" Everybody's doing it,…@mfisher1212."
Comments from her fans suggested that although the picture looked funny, the duo also looked cool! Some followers even compared the couple's resemblance to other celebrities.
A fan said:
"How come you two don't look bad at all,"
Another fan said:
"Beautiful couple at any age,"
It seems the duo took a sneak peek into the future, as Carrie always expressed her desire to get a Prince Charmer that will be with her until old age. She surely got her to wish!
The pair, however, is a strong team considering how they began their relationship. Before Mike and his lover, Carrie said their "Till death do us part," they engaged in a long-distance relationship, after the singer's bassist, Mark Chalders linked the pair.
The artist was based in Nashville, and her beau, in Canada where he starred as a hockey player with Ottawa Senators.
Her husband retired from hockey in 2018, almost a decade after they got married. Information garnered by "The Tennessean" revealed that the father of two became an American citizen in March 2019.
Both Mike and Carrie have two healthy boys! 4-year-old Isaiah, and few months old Jacob Bryan. The proud dad spends quality time with his boys.
The Grammy award winner shared an adorable picture of her man and their sons on Father's Day. Family isn't the only thing the singer is flaunting.
After her delivery, she showed off her toned body in a series of photos, and she also marketed some bikini wears from her line that are available Dick's Sporting Good outlets.
The "American Idol" winner announced she's stopping at nothing to redeem her body and that her "Cry Pretty Tour" provides an excellent avenue as she expels energy during a stage performance.
Carrie isn't the only one having fun with the face app. Famous faces like Joanna Gaines, Drake, Kevin Hart, Ludacris,and other celebrities are all having a good time with the futuristic glimpse.
It doesn't matter how old the singer looks; she and her husband are never short of having a good time, whether indoors or out!
Please fill in your e-mail so we can share with you our top stories!