Mike Fisher & Carrie Underwood Celebrate Their 9-Year Wedding Anniversary
On Wednesday, Carrie Underwood and Mike Fisher celebrated their ten-year anniversary in classic country fashion by riding their own horses and then sharing it to social media for the world to enjoy.
The adorable couple has been together for nine years already, but if Fisher's Instagram is to be believed, the time flew by way too quickly. The former professional ice hockey player posted his sentiments online. 
"9 years feels like 9 minutes!!!! Grateful to be on this journey with you @carrieunderwood !! Time sure does fly #datenight #happyanniversary," he wrote. The couple also had a date night back in June. The post is found below. 
Along with the caption, Fisher, 39, shared a picture of him and Underwood, 36, sitting snuggly as they took a selfie for fans on their date night. Fans littered the comments with congratulatory messages. 
Fisher and Underwood met in 2007, got engaged in 2009, and exchanged vows on July 2010. They held the ceremony on Lake Oconee's Ritz-Carlton resort in Georgia. 
The country singer also took to Instagram to share how she spent her anniversary with Fisher. Underwood couldn't decide on which picture to include, so she seemed to have gone with all of them.
In the caption, she explained: 
"Spent my morning with my cowboy and our horses! #Too many selfies" 
She posted a collage with four photos of her and Fisher riding their horses. Back in March, Fisher announced that he had finally fulfilled a dream and gotten a horse of his own, named Bojangles. 
Days later, the Nashville residents got another horse, this one white and black, named Annie. Fisher reportedly shared the arrival to his Instagram story where he called the horse "Bo's sidekick." 
The couple is parents to three-year-old Isaiah Michael and seven-month-old Jacob Bryan. Their journey to parenthood was difficult, with Underwood suffering at least three miscarriages before having her second child. 
Despite their challenges, the pair remain in good spirits thanks to their sweet boys. In May, Fisher shared a funny picture of Jacob photoshopped as an old woman. 
He wrote, "Can't believe Jacob is 4 months today!" in the caption. At the time, Fisher and the boys were with Underwood as she was doing her "Cry Pretty" tour. The family is now on break until early September.
In June, Underwood sat down with People and doted on her husband who's just right for her. "He is so level-headed about everything," she explained. 
She described: "When I was dealing with everything, not just emotionally but hormonally [...] I was probably not very easy to love, to be honest. And to have somebody so even-keeled, he was my lifeline, keeping me grounded."
When comparing her husband to past relationships, Underwood said that she knew it wasn't right before with others. With Fisher, though, Underwood called it "a good partnership" and said Fisher was who she "was meant to be with."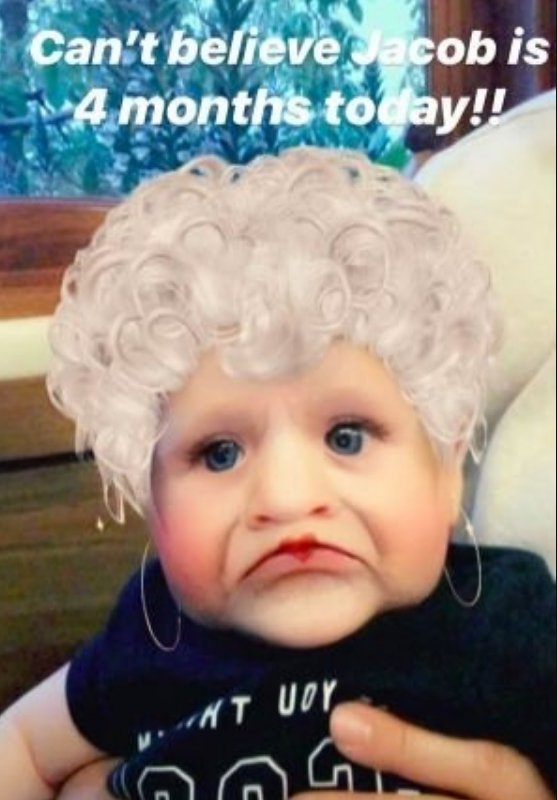 Based on his anniversary post and many others, it looks like Fisher feels exactly the same way nine years in. We wish the pair a happy anniversary and many more to come in the future.