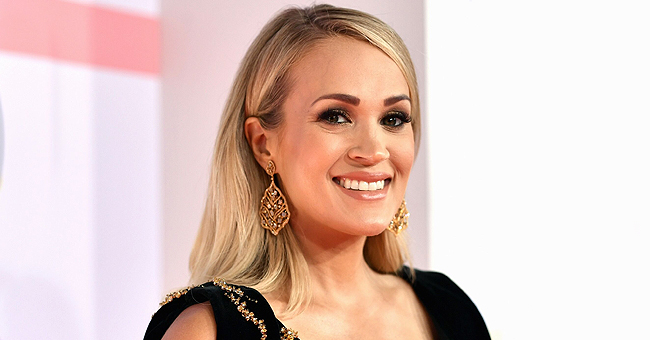 Getty images
Carrie Underwood's Husband Mike Fisher Shares Adorable Photo of Baby Son Jacob as an Old Lady

Carrie Underwood's hubby, Mike Fisher celebrates their baby boy, Jacob as he becomes a month older.
Posting on social media, Fisher shared a comical image of his toddler son. In the photo, baby Jacob is photoshopped as an old woman.
He captioned the picture:
"Can't believe Jacob is 4 months today!"
Fisher, 38, together with his children is on tour with Carrie Underwood for her "Cry Pretty Tour 360."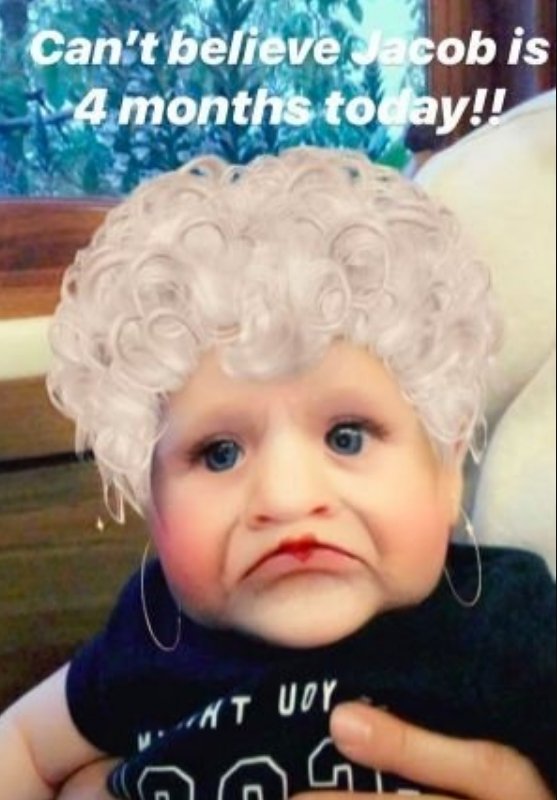 A funny picture of Mike Fisher's son, Jacob Photo: Instagram stories/ @mfisher1212
Carrie who is grateful for being able to have her family around her during tour called herself "the luckiest wife and mom."
Carrie recalls her last tour as she stated that at the time, her firstborn son Isaiah, 4, had only been 11 months old and she had to combine touring with caring for her baby. The "Southbound" singer also mentioned that it was worth it. Underwood explained:
"[Isaiah] was 11 months old when we started the last tour, So it was very much like: do a little makeup, make him dinner, come back and do my hair, then get him ready for bed. So it was worlds colliding, but it was great. I'm so lucky I get to take my kids to work with me, and not everybody gets to do that."
Although the "Jesus Take the Wheel" crooner has child care on the tour, she admitted to not making use of the help. Underwood stated while speaking with "Populture,"
"Obviously, I have help when I'm out there. Somebody's gotta watch my kid when I'm out on stage. But I'm really bad at utilizing that, which I think is good, too. Nobody ever got up with my kid in the middle of the night but me. And I'm proud of that."
Baby Jacob is still too young to comprehend that his celebrity mom is a rockstar but Isaiah displays his excitement on seeing his mom on stage whenever he's able to stay up and watch her perform.
To the delight of fans, Fisher posted a selfie of him and Isaiah enjoying one of Carrie's show. The dotting dad captioned:
"What a night! This is Izzy's first tour show that he'll remember. He had a blast and kept yelling 'Mommy I love you' when she came close!! His mommy is a rock star on stage and off the stage"
Fisher went on as he praised his wife for being "brave" in combining motherhood with her career. Fisher shows love and support for his spouse and Carrie is grateful for this.
The "American Idol" alum also tries to keep in shape as she stays faithful to her workout routine. Carrie recently shared a sweet photo of her and her hubby in the gym while she shows off well-toned legs.
It is safe to say that Carrie's body is fitness goals having delivered her second child earlier this year.
Please fill in your e-mail so we can share with you our top stories!