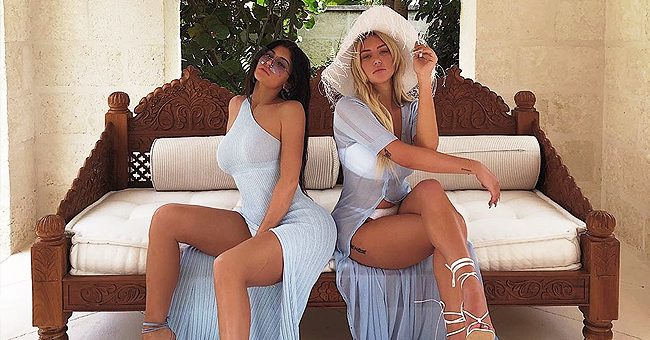 Instagram/kyliejenner
Kylie Jenner Slammed after Tight Dress Pics Appear to Reveal 'Photoshop Fail'

Kylie Jenner and her friend Staci Karanikolaou get dragged after fans notice blurred lines in their recent photos suggesting they've been Photoshopped poorly.
She is Kylie Jenner so naturally, anything she comes out with is subject to scrutiny. That being said, it's not unusual that a photo of her would be nitpicked by her millions of followers just because, as we said, she is Kylie.
TWINNING AND WINNING
The youngest self-made billionaire was in Turks and Caicos recently spending some quality time with her pal, Anastasia Karanikolaou, aka Staci. A photo from their vacation was shared by Kylie where they twinned in light blue dresses. Kylie's was a one-shouldered maxi while Staci's was a buttoned-down one. Both ensembles showcased their enviable figures.
THE FUSS OVER A PHOTOSHOP FAIL
For most people, the photos Kylie shared were nothing unusual. These are two women flaunting their curves in striking poses set in beautiful backdrops. But not for those who have a keen eye for detail. Several of Kylie's followers noticed something strange about the pics when zoomed in -blurred lines that seem to suggest they'd been Photoshopped.
This brought on a wave of negative comments directed toward the 21-year-old accusing her of a "Photoshop fail." In one image where she and Staci are sitting on a couch, a fan pointed out the difference in the stripes of the cushion in the section that was edited.
"Next time you Photoshop your pictures make sure you're not sitting in front of a pillow with stripes ;)"
Likewise, in another photo where the two were strutting on a garden in front of a mansion, the lines on the ground appeared skewed in the areas allegedly digitally altered.
Comments ranged from advising Kylie to be wary of photoshopping to slamming the two ladies for faking their bodies in pics.
KYLIE DEFENDS STACI
Kylie has yet to reply to these latest insinuations. It was only a second ago when she blasted a troll who body shamed Staci's bikini pic.
The 22-year-old was accused of Photoshopping her photo by a follower who noted the ripples in the skin near her private area. Kylie was quick to defend Staci by clapping back. "@inkerella_leave her thick thighs and phat p**** out of this!!!!!!" she wrote,
Staci chimed in and told the same person that it would look even more photoshopped if there were no ripples.
Regardless of these nasty comments, Kylie and Staci appeared to be having a grand time during their R&R which also saw them twinning in jumpsuits. It's possible Staci is now Kylie's new BFF after her fallout with Jordyn Woods. And much like the friend that Kylie was to Jordyn, Staci can expect that the reality star will always have her back.
Please fill in your e-mail so we can share with you our top stories!