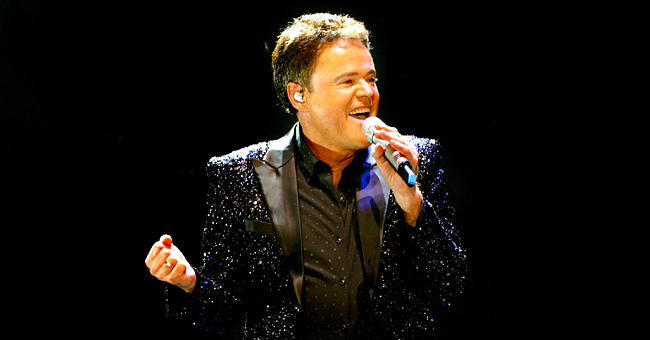 Getty Images.
Donny Osmond Learns How to Drive an Excavator with His Grandson in a New Video
In the latest video posted on Instagram by the singer, Donny Osmond, he was behind the wheel of a tractor with his grandson in tow.
Donny Osmond has been a performer in the entertainment industry since he was five years old. The American actor is a singer, dancer, author, game show host and record producer.
He first attained recognition in the mid-1960s with his siblings as an American family music band, "The Osmonds." Donny captioned the Instagram video:
"Good afternoon, friends. Today's lesson: How to #PopaWheelie in an Excavator."
The grandad, who was operating the excavator, appeared to be trying to dig a giant hole while his grandson sat on his laps, just behind the controls monitored closely by the grandad.
Over his successful fifty years long career, the former teen idol, Osmond, has been both a musical and television icon, headlining live shows everywhere from Broadway to Las Vegas and he recently revealed that he might have missed his calling to be a doctor.
In a sassy Instagram post, the dancer said he should have pursued medicine solely for one reason, his terrible handwriting. Donny Osmond revealed this cheeky comment when he came in contact with a diehard fan who he signed his autograph for in 1972.
During the meet and greet, Osmond couldn't believe how much his handwriting had changed as he compared it with another autographed book from 47 years ago.
The 61-year-old singer jokingly referenced the bad penmanship of most members of the medical profession by saying that he might have missed his true calling in life, looking back 47 years from now.
Osmond noted that when he was 14 years old, his penmanship was better and that the letters in his name could be easily read and now, four decades after, it had gotten much worse.
Donny who headlined a concert at the Flamingo Las Vegas Hotel and Casino with his sister, Marie Osmond, unfortunately for their fans, just ended their Las Vegas run.
The duo who ran the variety show "Donny & Marie" on ABC, said goodbye to the production after 11 years. The show, which Donny and Marie Osmond headlined since 2008 was initially contracted to run for six weeks, but it was on for eleven years before the siblings decided to end it and pursue separate careers.
Although it was initially rumoured that the duo was ending the show due to irreconcilable differences, Marie immediately put the rumours to rest saying that siblings had their disputes and it was pretty normal and they all still love each other.
Osmond has been successful on two reality TV competition shows, having won season 9 of "Dancing with the Stars" and been the runner-up for the first season of "The Masked Singer."
Even after all the accomplishments, the doting grandfather takes his job as a grandparent seriously and never shies away from showing off his grandkids.
Please fill in your e-mail so we can share with you our top stories!