The Duggar Family's Favorite Snacks and Recipes
Feeding a family of 21 can be extremely costly. So it's no surprise that the Duggar children have come up with some creative and cost-effective snack options.
Jim Bob and Michelle Duggars massive family is known for their thrifty outlook on life. Since they share most of their taste in snacks, the family has created a few special recipes to satisfy their odd cravings.
From milked cucumbers with vinegar to BBQ Tuna, the Duggar children have created unique snacks for themselves to enjoy. Here is a list of some of their favorites.
Jill Duggar's Canned Green Beans
Jill Duggar revealed that her favorite snack is a really simple canned item. She loves eating canned green beans.
In September 2016, she took to Instagram to reveal her snack of choice writing:
"My hubby brought me one of my favorite #studysnacks green beans, salt, and vinegar! Yes, you read that correctly! Lol been a family fav since I was a kid. My mom called them 'green french fries.' [Derick Dillard] thanks, babe!" 
According to Anna Duggar, Jill isn't the only one who loves the snack. She admitted on an episode of 19 Kids and Counting in 2014 that when life gets hectic they turn to tin green beans.
"We try to have a lot of fruits and vegetables on hand for snack time, but that also means you're spending a lot of time traveling back and forth to the grocery store," she said. "So there are times when we'll have broccoli and carrot sticks for a snack, and there are other times when we'll pull out a can of green beans because that's just a little more practical."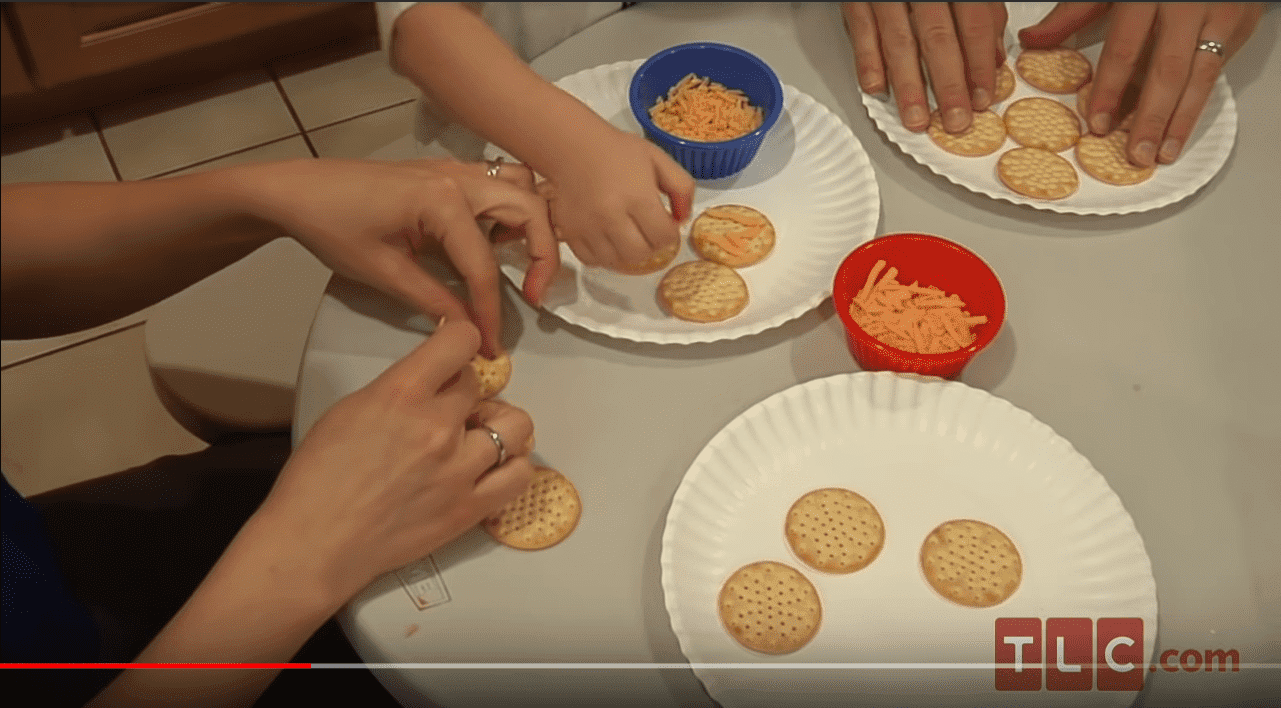 Crackers With Unmelted Shredded Cheese
In the same episode, Anna went on to reveal her children's favorite snacks. She told them:
"Let's do crackers with cheese and you can make different shapes and letters on your crackers out of the cheese."
Derick's Breakfast Recipe with Froot Loops, Plantains, Kiwi and Croutons
Derick once made Jill breakfast and she proudly showed it off on Instagram. She took to Instagram to show off his concoction of Froot Loops, plantains, croutons, and kiwi.
"My sweet hubby @derickdillardbrought me breakfast in bed. He's the 'bestest!'" she wrote.
Duggar Slushies
The Duggar family has slushies so often they have developed their own recipes for their favorite drink. One of their go-to recipes is ice, lemon juice, and food coloring.
Apparently, food coloring is optional. They even have a post on their family blog about slushies and often take it with them on road trips. 
Lemons With Salt
"Enjoying sliced lemons and salt with my big boy while I should be folding laundry lol," Jill asked on Instagram. "Anyone else a fan?"
However, the post gained some criticism from fans who warned it could be bad for their teeth. One wrote:
 "Eating lemons like that strips the enamel off of your teeth," and another agreed saying, "My kids used to do this, too, until the day our dentist told us it ruined your enamel." 
Their Unique Milked Cucumber Snack
Milking cucumbers is a technique the family uses to ensure the vegetable tastes its best. According to the family, the technique takes out the bitterness from the cucumber. 
"I am milking the cucumber," Jason Duggar said in a clip from 2013. "It takes most of the bitter taste out of the cucumber."
His brother, Justin Duggar went on to say:
"You cut off the top of the cucumber and you grab the piece you cut off and you start rubbing it on the cucumber. You rub it, and you rub it, and you rub it and you rub it."
Duggar Pickles
Duggars are famously obsessed with pickles. Jessa Duggar revealed their love for the snack started with Michelle's first pregnancy.
"The Duggars love pickles. I think it probably started that when my mom is pregnant she craves pickles, that is the one thing. Every time we see her eating pickles we say 'Are you pregnant?'" Jessa explained in a 2016 episode of Counting On.
Joy-Anna later revealed that the family takes their pickles so seriously they have a formal pickle induction ceremony. She said:
"Any time a family member tries a pickle for the first time, we always go around and take videos and pictures and everyone comes around to watch their facial expression."
Jim Bob's Tuna Salad
Earlier this year, Jill Duggar posted a recipe called "Pops' BBQ Tuna Fish." She explained her father Jim Bob invented the recipe.
She said he came up with the recipe while her mum was out of town and he needed to feed seven kids ages seven and under for a week. However, some fans felt the recipe looked less than appealing.
"Just this presentation is making my stomach voice some serious objections," said one fan.
Sweet Potato Fries
The Duggars reportedly love sweet potatoes. Jill posted a picture of her child munching on some sweet potato fries however, some fans felt the chunks didn't look like fries.
 "Those don't look like fries," one wrote and another added, "Those look like roasted sweet potatoes, not fries."
A
fan on Reddit
even went on to comment on the image saying,
"Those ain't fries. They're just ugly cut potato chunks."
Morning Snacks Include Pizza
In an episode in 2011, the Duggar children raided the fridge for breakfast at four in the morning. They were eating before going on a mission trip.
"The kids are eating like pizza, tomatoes, corn. Unique stuff for breakfast," Jinger revealed and Josiah added while biting into a slice of pizza, "We're kind of weird in our family. Most people don't want to have this for breakfast."