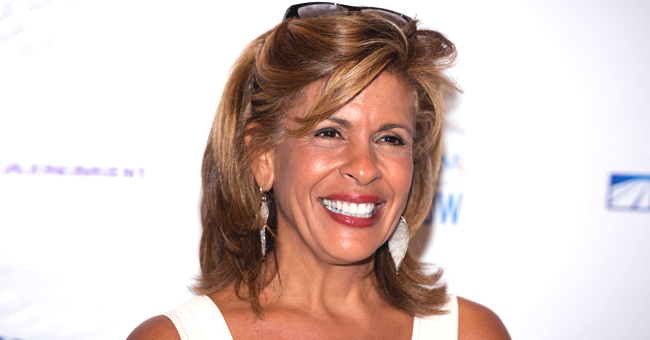 Getty Images
Hoda Kotb's Reaction to Dylan Dreyer's Pregnancy and Her Baby Bump

The upcoming arrival of a baby is always a good reason to be happy and celebrate and "Today Show" host Hoda Kotb couldn't help herself upon hearing the amazing news.
Recently, Dylan Dreyer, Kotb's colleague on the show, announced that she is expecting her second child, leading several people to congratulate her and shower her with love.
Kotb was one of those people, and to mark the occasion she took to her official Instagram account to share a very sweet photo of herself pointing at Dreyer's baby bump.
DÉJÀ VU
In the picture, the 54-year-old can be seen with a very surprised expression on her face while posing alongside Dreyer and Kathy Gifford, who also made sure to appear in the shot.
In the caption, Kotb, who has two daughters of her own, wrote that she still remembers when Dreyer gave birth to her son, Calvin, on December 2016, and that they are ready for baby number two.
SHE RECEIVED PLENTY OF SUPPORT AND POSITIVE MESSAGES
Dreyer announced her first pregnancy during an episode of the "Today Show" and decided to do it all over again for her second one, claiming that she is expecting her child to be born on January 2020.
But Kotb wasn't the only one congratulating the happy mother. Jenna Bush Hager also used social media to express how thrilled she was for Dreyer and her beautiful family.
Dylan Dreyer announced that she is expecting her second child
Co-host Savannah Guthrie shared a picture of Dylan's gender reveal on the show, adding that she was overjoyed for Dreyer and the upcoming baby boy.
A HEARTBREAKING EXPERIENCE
It goes without saying that the 37-year-old TV meteorologist couldn't be in a better place at the moment, especially after the suffering a miscarriage earlier this year.
Dreyer and Brian Fichera, her husband, tried to conceive a second child for six months before turning to the doctors for help. That's when she was diagnosed with secondary infertility.
According to the Mayo Clinic, it is a term to describe the inability to become pregnant or carrying a second child to term after previously giving birth. Plus, Dreyer's egg count was very low.
She was submitted to a procedure to clear the scar tissue in her uterus and quickly became pregnant, only to see her dreams shatter before her eyes five weeks later.
Please fill in your e-mail so we can share with you our top stories!