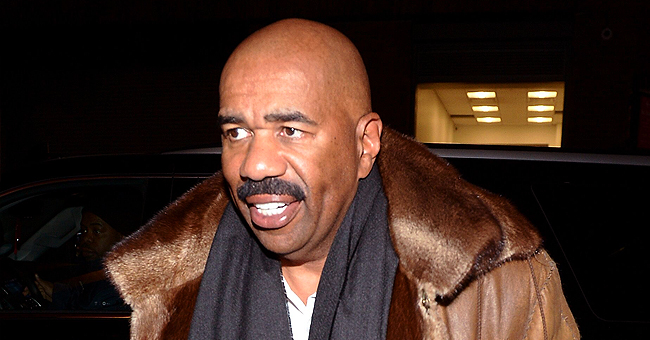 Getty Images
Steve Harvey Works out during Italy Vacation, Reveals Plans for Inspirational Videos

Actor and TV talk show host, Steve Harvey took to Instagram to announce his new plan to start posting inspirational videos.
He said this during a work out session to lose the 10 pounds he gained while enjoying yet another vacation with Marjorie.
GONNA INSPIRE THOSE WHO WANT IT
Steve Harvey's series of addictive vacation videos detailing his travel experiences could be in its last days. The television show host hinted this in an Instagram video of his time at the gym.
He promised to post videos from his fun-filled vacation as usual, but with a positive twist. This year's post would focus only on inspirational videos, which he hoped would motivate and inspire his fans and well-wishers.
He captioned the workout video:
"Gonna inspire those who want it… for those who don't, it's all good."
The 62-year-old author looked famished while speaking between breaths, but that did not hinder him from keeping up his quest to get some fat off.
WHAT STEVE HAD TO SAY ABOUT THE NEW TURN
The "Steve TV Show" anchor did not just decide without cause. The vacation lover explained that his decision resulted from the opinion of one of his haters.
According to him, the alleged hater offended him by implying that he was putting ideas in the heads of his clueless fans. This said hater also advised the NBC star to stop putting his life in people's faces.
ITALIAN FUN FARE
The actor's new vacation policy does not involve pictures aswell. This year's vacation to celebrate his twelfth wedding anniversary to Marjorie has got the star couple visiting the seat of romance, Italy.
Photos from the fun trip have flooded their social media accounts and have left fans drooling for more, rousing a curiosity that could only be tempered with a video.
"STEVE TV SHOW" ALSO HIT AN END
Sadly for the TV host's followers, the fun vacation videos are not the only thing to be missed. Late last month, the 62-year-old announced that his NBC TV show, which aired for seven years, finally hit a stop.
The show was canceled by NBC in May, and in its stead, "The Clarkson Show" would hit the screens of the daytime talk show lovers.
This comes after the couple awarded scholarships worth $23,000 to eight new students of Kent State University, which is the actor's alma mater. The KSU alumnus never stops giving back to the university community and engages in a lot of charity work.
Please fill in your e-mail so we can share with you our top stories!