Steve & Marjorie Harvey Share Photos of Lavish Vacation after His Talk Show Was Canceled
Steve and Marjorie Harvey are enjoying their summer in the Southeast of Europe, and they've been sharing their amazing views of waterfalls, mountains, and old cities with their combined 7.3 million Instagram followers.
Last month, Steve Harvey said goodbye to his seven-year-long talk show "Steve" after NBC decided to cancel it and replace it with a new talk show hosted by singer Kelly Clarkson. However, the 62-year-old TV host doesn't seem to be grieving the loss.
Just a week after the show aired its final episode—it will remain on the air in reruns through September—Steve and his wife Marjorie jetted off for a romantic and lavish anniversary trip, and they're documenting it on their respective Instagram accounts.
TRAVELING IN STYLE
The couple's first stop was Italy, where they got to ride a gondola on the canals of Venice, and later visited the iconic coliseum in Rome.  
"My girl @marjorie_harvey has always wanted a Gondola ride in the canals of Venice!!!! WANNEE DO IT," Harvey captioned a stylish photo that shows him embracing Marjorie with one arm and holding a cigar in his other hand while they relax on the gondola ride.
"I can't wait to see what God got for me on that other page."
Later, the pair made their way to Croatia. There, they visited the Roški slap waterfalls, and Steve revealed in a video shared by Marjorie that the trip was her idea and he couldn't say no to her. "I wouldn't be doing none of this. I would be in Las Vegas right now with some cigars and gambling," the comedian confessed.
They also visited the Plitvice lakes, where they enjoyed a meal at a wooden table located in the water by the side of a beautiful waterfall. Marjorie described the experience as "Just incredible."
VISITING A FAMOUS TV SPOT AND MORE
After taking a ride on a lavish yacht, Marjorie visited Dubrovnik, an old town famous for being the inspiration behind King's Landing, one of "Game of Thrones" major fictional cities. Marjorie was captured walking around the town in loose yellow hoodie and jeans.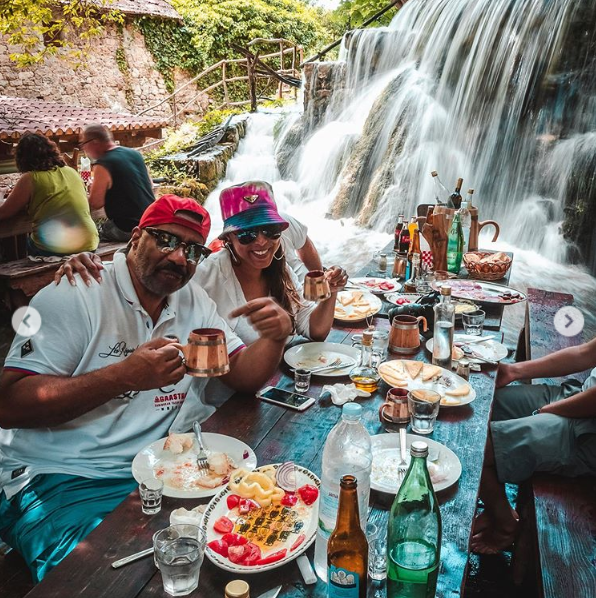 "I had the best time exploring King's Landing..... a fictional city in Game of Thrones #Croatia #gameofthrones #harveys #kingslanding," the mother of seven captioned a set of pictures showing the beautiful alleys and a sky's view of the city.
Harvey, on the other hand, was aboard a boat pulling mussels from the ocean alongside locals. He shared a video of the experience and captioned it:
"Country boy washing some mussels I just pulled from an ocean canal live YEAH!!!!! By the way, my man in the video... He's never been to Harlem!!! they had no idea what I was talking about."
One of the men in the video replied:
"That's my brother and me on video. We really enjoyed your company and hope to see you next year."
Steve's latest video, recorded from another yacht, shows a fantastic view of Montenegro, a country at the west of Croatia.
STEVE'S LATEST APPEARANCE ON TV
Last month, Steve made sure to address the worries of his audience and fans about his future, stating in the opening monologue of the final episode of his show that he's more than ready to face whatever life has prepared for him next.
"This is a celebration. This is all about seven years coming to a close, but this is good … you've got to understand how it works," he started.
"See, your life ain't nothing but a book," he continued. "I happen to be 62 years old. I am in the middle of my 62nd chapter of the book that I'm writing. I've had some good chapters, had some bad chapters, had some chapters that lasted a little bit longer than I wanted [them] to."
Harvey said he had his finger "on the corner of the page" of his 62nd chapter. And added:
"All I'm doing is I'm about to turn it. And I can't wait to see what God got for me on that other page."
Harvey, who also lost his spot as the host of "Little Big Shots," is still the host of the game show "Family Feud" and is set to keep hosting the Miss Universe and other TV specials.