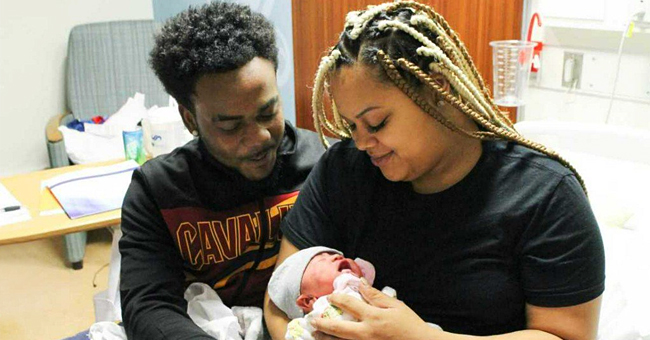 twitter.com/FOX2now
Girl Born on July, 11 at 7:11 PM Weighs 7 Pounds 11 Ounces

7 and 11 proved to be the lucky number for a newly born baby girl. The newborn arrived having both numbers appearing in her date of birth, time of birth, and weight at birth.
Rachel Langford and Johntez Brown were surely not expecting that the birth of their child would come to bring so much attention and some amount of fame.
That has proved to be the case as their newly born daughter, J'Aime Brown arrived the world having a strong affinity for the numbers 7 and 11.
BABY J'AIME IS "LADY LUCKY"
Baby J'Aime's father, Johntez Brown announced the birth of his daughter on his Facebook Page. In his post, he stated that she was born on the 11th of July, at 7:11 pm, and weighed 7 pounds and 11 ounces.
Excited by such a feat, Johntez ended his post by tagging his beautiful daughter as "Lady Lucky."
BABY'S MOTHER SAW THE NUMBERS DURING HER PREGNANCY
Baby J'Aime's mother revealed to CNN that she frequently saw the numbers 7 and 11 while she was pregnant. She would take a look at the clock and see that the time was 7:11.
At that time, she paid little attention to it. She explained that she thought it was weird, and never knew the numbers would mean so much. The proud mother also said she would tell officials of 7-Eleven of her daughter's remarkable birth and the coincidences.
BROWN IS INTRIGUED BY DAUGHTER'S FAME
Since the birth of his daughter, the proud father has kept posting several images of her; as he seems to enjoy the media attention, her remarkable birth has brought. In one particular post, he pointed out that she was already on the news, also stating that she was on T.V.
There is no arguing that Rachel and Brown, who are from Missouri, would take a long time to contain the excitement their daughter's birth has brought their way.
SISTERS GIVE BIRTH ON SAME DAY, IN THE SAME HOSPITAL ON FATHER'S BIRTHDAY
In a somewhat related occurrence, two sisters, Simone and Shari Cumberbatch gave birth on the same day, and at the same hospital, on a day which also happened to be their father's birthday.
The sisters were due for delivery in mid-July, but their babies chose to arrive earlier on the 4th of July. The date, apart from being America's day of Independence, also happened to be the 70th birthday of their father.
With this occurrence, the Cumberbatch Family have said that the Festivities of July 4th would never be the same for them.
Please fill in your e-mail so we can share with you our top stories!