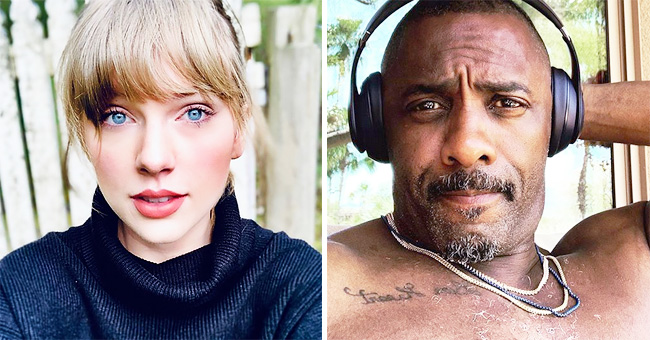 Idris Elba & Taylor Swift Do the Tango in First Peek at 'Cats' Movie
A behind-the-scenes teaser of the upcoming film "Cats" gave fans a glimpse at the work of Taylor Swift, Idris Elba, Jennifer Hudson, and many other talented artists that will be becoming felines on what is expected to be a mega-production of the famous musical.
In the clip, shared ahead of the first movie, the cast is seen in the rehearsals for the movie's musical numbers walking around the giant-sized sets, and talking about their experience on the film so far.
Swift, who is set to play the role of Bombalurina, is seen practicing several dance numbers by herself and with Idris Elba, who will play super-villain Macavity the Mystery Cat. They are being directed by choreographer Andy Blankenbuehler, who was also the choreographer on Broadway's "Hamilton."
"My first memories of performance go back to Pennsylvania when I was growing up," Swift says in the video. "My favorite thing was getting to be theatrical, to tell a story, and I've always brought that sort of narrative element to my live shows."
And continues talking about the film:
"People are coming together through all different corners of entertainment. Everybody's working really long hours, rehearsing every day, and it's fun. I just was really excited and so honored to get to be a part of this."
The star-studded cast also includes Jennifer Hudson, James Corden, Judi Dench, Ian McKellan, Rebel Wilson, Jason Derulo, and the Royal Ballet's Francesca Hayward, who is the star of the film.
Elba says watching so many talented people in the same place put a lot of pressure on him, but eventually pushed him to give his best.
"When you see people that are at the top of their game doing it, you raise your bar as well," he said. "The scale of this film is huge, three or four times bigger for the cats' perspective. This is a moment for you to step into a world that's completely designed to entertain you."
Swift, who is a known cat-lover, talked about her experience doing the film on a visit to "The Graham Norton Show." "I had much more fun than anyone else," Swift joked.
"I had to go to cat school to learn how to move and behave," she added, revealing that she was meant to be there for three days and ended up staying four months.
Elba, who tied the knot with Sabrina Dhowre a few months ago, praised Taylor for her work in the movie.
"Taylor was great," the told Variety. "Her and I had a lot of work to do together, and she was amazing. She worked hard and was just happy to be there."
The English star also confessed that he never saw the musical before being cast in the film.
"It was all really new to me, but I know the songs, of course, so I was sort of in new territory, but it was really liberating," Elba said. "It was so much fun playing that big Macavity character."
"Cats" is set to be released on December 20.
Please fill in your e-mail so we can share with you our top stories!