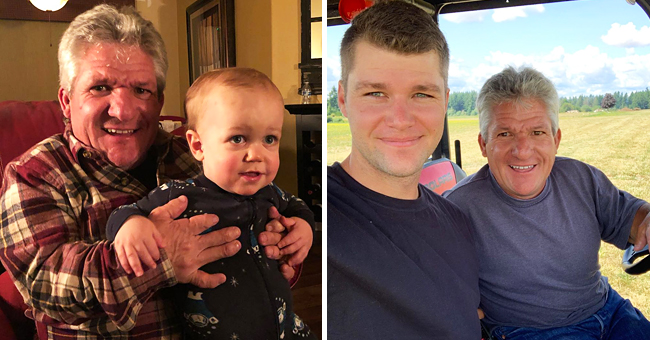 instagram.com/mattroloff
Matt Roloff Takes Advantage of Returning to the Farm Early by Spending Time with Son Jeremy
The star of the reality television show, "Little People, Big World" was at the family farm and took the opportunity to spend some time with his son. His presence at the farm came at a much earlier time than he planned.
Matt Roloff just loves to do farm work and takes any opportunity he can to do it. That fact was proven again when he posted a picture of himself and son, Jeremy, together at the farm. He did at least spare some time to take a selfie.
MATT ROLOFF'S POST
The Patriarch of the Famous Roloff Family shared an adorable picture of himself and son, Jeremy, inside what seemed like a farm tractor.
Behind them was the farm field, which suggested that Matt was busy with some farm work. If there was any doubt as to that, his caption to the Instagram post surely cleared it.
In his caption, the patriarch explained that he had to return to the Farm earlier than he originally planned. He thus, took the opportunity to see his grandkids and Jeremy, who he tagged as an amazing man.
He also stated that he was taking advantage of the extra time afforded by his early arrival to get some work done on the farm.
MATT'S FANS REACT
Many of Matt's fans reacted to his post and made comments. Some comments showed likeness for Matt's ability to always spend time with his kids and asked him to continue to do so.
Some other commenters chose to focus on Matt and Jeremy's good looks and pointed out their resemblance. Other fans gave different opinions on what should be done on or with the farm.
A concerned fan, however, asked Matt not to work himself up so much, while another curious fan wondered if he didn't live in the farmhouse anymore.
THE FARM'S FUTURE
It is no longer news that Matt Roloff and Amy Roloff are divorced. The longtime couple, who made their family famous with their reality television show and Oregon Farm House separated in May 2016.
In the aftermath of their divorce, Matt shared a post on Instagram in which he revealed in clear terms the future of the farm. In the post, he revealed that the firm would be open for the Pumpkin Season.
He also explained the "buyout" option, which was discussed between him and Amy. He explained that he would buy half of the farm, which Amy agreed to sell, while they would work to sell the other portion, though that wasn't happening yet.
He, however, said he was focusing on the present and not the future. The divorced ex-couple still appear in the family series but have moved on in their love lives.
They are involved in relationships, with Matt dating Caryn Chandler, while Amy is dating Chris Marek.
Please fill in your e-mail so we can share with you our top stories!