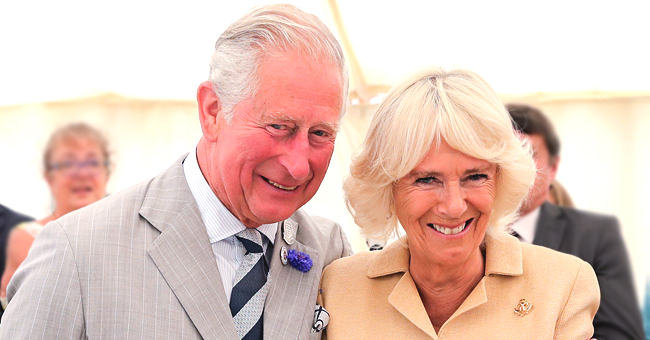 Getty Images
Camilla Parker Bowles Celebrates Her 72nd Birthday in the Company of Donkeys 'William and Harry'
The Duchess of Cornwall turned 72 on July 17th and her birthday was celebrated with close family members at The Donkey Sanctuary in Devon to celebrate the charity's 50th birthday.
Congratulations are in order as Camilla Parker Bowles celebrates clocking another year. She, however, took to celebrate in style by spending the day with a couple of four-legged party guests.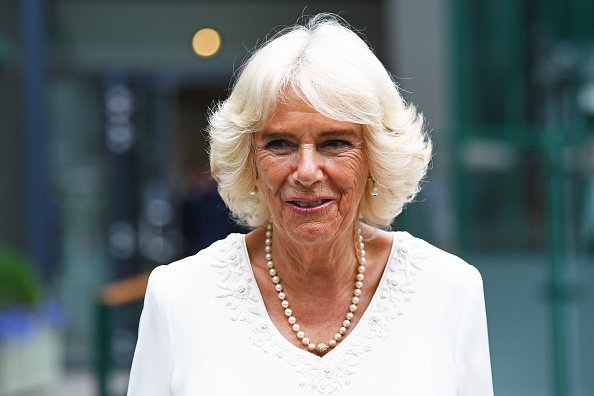 Camilla, Duchess of Cornwall in London, England.| Photo: Getty Images.
The Duke and the Duchess are both in Devon for three days visiting for their annual tour, and from the looks of things, Camilla had some very entertaining engagements scheduled for her birthday.
by the royals' official Instagram page @clarencehouse shows the Duchess in a lovely plain cream jacket with a pleated skirt. Camila could be seen standing between two donkeys William (right) and Harry (left) as she pets William with her right hand,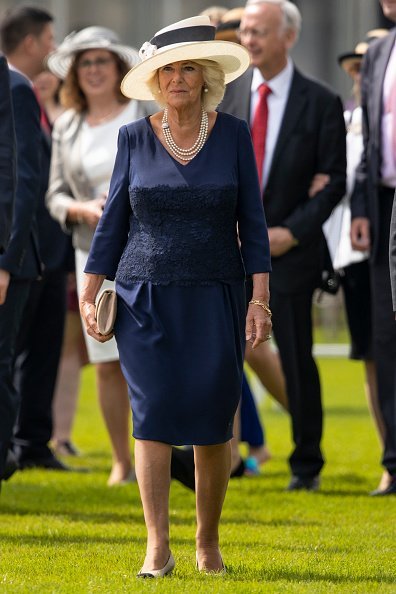 Camilla, Duchess of Cornwall at Port of Dover in Dover, England.| Photo: Getty Images.
However, not only the donkeys and mules were at the venue to welcome the Duchess. To celebrate her were some lovely looking kids who held and waved flags at the Duchess of Cornwall and also people who have gained immensely from the charity program over the years.
Also at the venue were horses and rams who seemed excited to wish Camilla a belated birthday. Before leaving the site, the Duchess was awarded a sweet birthday gift by the organization; she was allowed to name a 3-week old donkey, which she called "Sweet Pea."
She was shown around by the charity's chief executive officer Mike Baker who showed the Duchess how to make a traditional Cornish pasty with a filling of skirt beef, potatoes, onions and swede, seasoned with salt and pepper.
As she ate the finished product, she could be heard saying,
"I think this is going to be a wibbly-wobbly pasty. With a bit of practice, I think I would get the hang of it."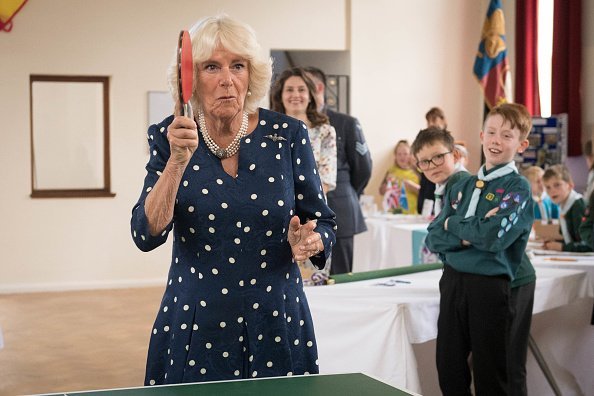 Camilla, Duchess of Cornwall playing table tennis during a visit to Royal Air Force Halton, as part of its centenary year celebrations at RAF Halton in Aylesbury, England.| Photo: Getty Images.
Happy birthday to the Duchess of Cornwall! After the bizarre visit with the adorable Harry and William, the Duchess and her husband continued the birthday celebration by attending the UK National Parks's Big Picnic celebration in Exmoor National Park.
At the venue, there was a commissioned cake motivated by the landscapes of the UK's national parks waiting for the Duchess.
From the looks of it all, it seems like it was a charming day for the Duchess of Cornwall.
Please fill in your e-mail so we can share with you our top stories!