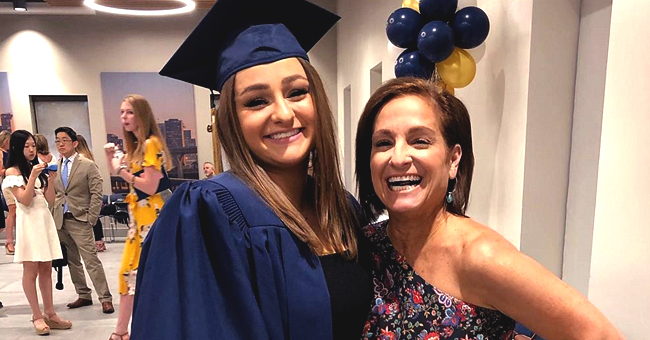 instagram.com/marylouretton
Mary Lou Retton and Daughter Skyla on Her Graduation Day (Photo)
Retired American gymnast, Mary Lou Retton, took to social media to celebrate her look-alike daughter, Skyla's graduation from high school.
Retton was every bit the proud mama when she decided to share a picture of herself and her beautiful daughter. The image was posted to commemorate the latter's milestone leaving high-school.
"NO MORE HIGH SCHOOL FOR THIS YOUNG LADY"
In the photo, the mother-daughter duo were all smiles with Skyla standing tall beside her world-famous mother. The teenage beauty was pictured wearing the traditional graduation attire – a navy blue graduation gown with oversized sleeves and cap.
She brought the look to a finish wearing tall black heels and with her dark brown hair styled into a straight-edged cut. Skyla bears a striking resemblance to Retton, and that comes through as the young beauty stood near the renowned sports star. Retton looked so young herself that she could easily pass for Skyla's sister.
She attended her daughter's graduation ceremony wearing a floral print top and an elaborately designed mini skirt. The asymmetrical neckline of the top had the star flaunting her beautiful neckline and the short length of the skirt, her well-toned legs.
If it weren't already a known fact, it would be hard to tell Retton is a mother of four! The beautiful star was, however, more than happy to share that her grown daughter is on her way into adulthood.
Her caption reads:
"No more high school for this young lady! #sbs2019 #proudmamma #threedownonetogo."
The last hashtag hints at the fact that Retton now only has one more high school graduation to attend, given that Skyla is her third daughter. Her three other children, all girls, include Shayla (b. 1995), McKenna (b. 1997), and Emma (b. 2002).
RETTON AND SKYLA'S RESEMBLANCE DID NOT GO UNNOTICED
Emma's graduation is one that Retton's fans will look forward to, but for now, they have Skyla's to ooh and aah over. So far, Retton's May 25 post has amassed well over 8,000 likes and numerous comments.
The comments section contained a lot of congratulatory messages for Skyla as well as multiple compliments for the mother-daughter duo for looking so alike.
One fan, @emmadilemma83 wrote alongside a heart emoji:
"You look so alike! Beautiful humans."
Another @irishdreams2017 commented:
"She definitely has your smile!!!! I'm so grateful to be following you on social media: you were my first ever hero @marylouretton, and I wanted to be just like you."
Skyla is lucky enough to get genes from a renowned talent like Retton, and she now has many of her mother's fans looking forward to her future endeavors. Here is to seeing more of Skyla as she takes adulthood – and the world – by storm!
Please fill in your e-mail so we can share with you our top stories!