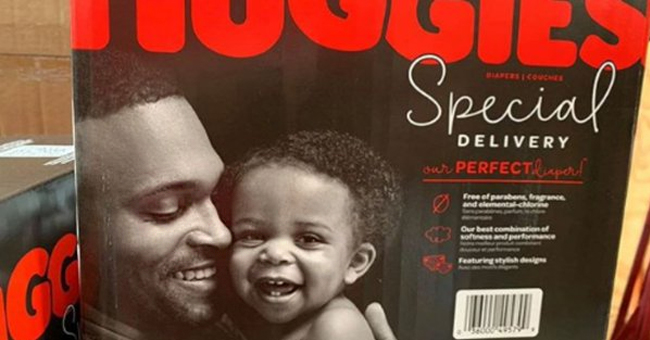 Twitter/theGrio
Huggies Features Black Father on Its Packaging for the First Time Ever
For the first time in the four decades of the pampers' company, Huggies is featuring fathers on the packaging of their new "Special Delivery" diapers. And although groundbreaking, the company's inclusion of an African American dad on the campaign has people applauding their marketing team.
In what is considered a historical move by many, Huggies is using fathers and babies on their packaging for the first time in the company's history. They were previously criticized for portraying fathers as disinterested and detached in some of their ads, so they have redeemed themselves with the move.
A PREMIUM PRODUCT
The "Special Delivery" line of diapers comes in a black box that suggests the premium quality of the product, according to what Kristine Rhode, Huggies North America brand director told USA Today.
There are seven designs, three with dad and babies and four with moms and babies.
"We really believe in celebrating all parents and the great job that parents are doing," Rhode said, adding that moms are usually the ones featured on the boxes. "When you think about the important role that dads have in the family today and how that continues to grow, we wanted to make sure they were equally celebrated."
THE STARS OF THE PACKAGE
One of the fathers on the boxes is Chicago-based model Orlondo Thompson, who was photographed with Tori Bridges' now 2-year-old daughter, Soraya Lattimore. They are the first depiction of a black family in a box of diapers.
"It means a lot, especially the representation in society with African American fathers. They're not necessarily out there as much, and this is really changing the narrative," Bridges told USA Today. "It was just very beautiful, and I was just grateful that Soraya was a part of history."
Thompson, who is not a father, said he's proud of the ad and was surprised by the response it has received from the public.
"Of all my print and commercial work, this by far is the dopest," the model wrote on Instagram.
Additionally, he said:
"There's a stereotype that's out there that dads in general, not just a particular race, are not connected to their kids and not affectionate. This should have been displayed a long time ago."
THE NOW GROWN BABY IN THE BOX
Bridges also shared adorable photos and a video of little Soraya posing with the box at a store and recognizing herself with excitement.
"Such an extremely exciting time for Soraya. Completely overjoyed for both her and @mrgqchicago for being a part of such monumental history," Bridges wrote on her Instagram post.
And continued:
"Thank you again, Huggies for this opportunity, stepping outside the box, and making a change for the better. Active fathers do exist, and they deserve to be acknowledged and celebrated for their essential contribution to their children's lives."
PEOPLE'S REACTION
People on social have welcomed the packaging and are praising Huggies for their inclusive marketing team. Some even stated they're compelled to buy the diapers to show support, even though they don't have a baby, or their kids are grown.
"This is so awesome! We've been potty trained for some time but seeing the box decided to buy and donate a box. This is absolutely awesome," wrote one user.
Another added, "As soon as I see it in stores and in size 5 for my son I'm buying!! Congratulations! This is MAJOR."
And a third one suggested:
"If you 'buy for no reason at all' you could always donate to your local diaper drive, I know salvation army offers diapers to lower-income families."
People are hoping Huggies' move can encourage more baby products companies to feature not only African American dads, but dads in general in their packaging.
"I would absolutely love for more fathers to be shown on products because we use them as well," said Joe Flowers Jr., a dad from Chicago who shared a photo of the box that went viral. "I know for me it was a good feeling to see someone like me represented on a package."
Please fill in your e-mail so we can share with you our top stories!