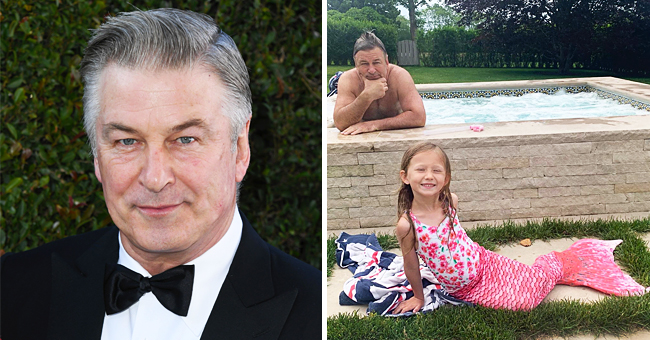 Getty images / instagram.com/hilariabaldwin
Alec Baldwin Recreates Cartoon Scene with Little Daughter Wearing a Mermaid Tail (Photo)
Alec Baldwin showed that he could easily win father of the year award, with a photo of him and his daughter's recreation of "Little Mermaid" scene.
Alec Baldwin might have had years after his first child before becoming a father again, but he has shown that he still remembers what it means to have a little daughter.
The actor shared on his Instagram an adorable photo of himself and his daughter, Carmen, recreating a scene from the famous Disney cartoon, "Little Mermaid."
The photo showed Baldwin's body immersed into an elevated outdoor pool, and the actor posed shirtless with a smile and a hand under his chin.
Carmen, on the other hand, posed wearing a flower-print swimsuit and a pink mermaid costume; she laid half-elevated on a concrete slab surrounded by grass and looked like an adorable mermaid.
Father and daughter looked great together, and his followers commented, "What a cute photo," "Epitome of sweet," and "The beautiful memories made."
The little girl is Baldwin's first child with his wife, Hilaria Baldwin, and between them, they also share sons, Alejandro, Leonardo, and Rafael; the four are between the ages of five and one.
In April, Hilaria, who was pregnant early this year with their fifth child, shared on social media that she went for a checkup and discovered that the baby whose gender was still unknown had no heartbeat.
The fitness expert equally shared a picture of her last sonogram and revealed that she is sharing her story to help remove the stigmatization that women who go through miscarriages suffer.
The mum-of-four also pointed out that although she did not meet the baby, she loved him or her "Deeply and wholly."
In a later interview, while attending the 23rd Annual Ace Awards in New York, Hilaria said she hopes to have more children with Baldwin, adding that she refuses to go out on a negative note.
The Spain native is quite resilient and faces everything in her life with positivity, including her relationship with her step-daughter and Baldwin's first child, Ireland.
Hilaria wrote on social media in April that while she might not consistently post about Ireland, she loves her like her biological children.
The "Living Clearly Method" author added that she also has a good relationship with Kim Basinger, her husband's ex-wife, and respects her as a mother.
Baldwin and Hilaria have shown that they are excellent parents, and with them, their children come first.
Please fill in your e-mail so we can share with you our top stories!