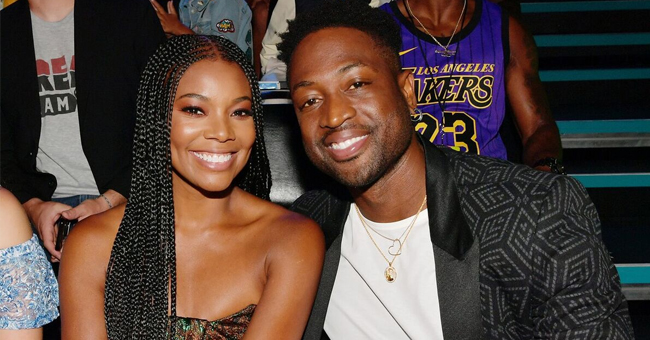 GettyImages
Dwyane Wade Talks Being AGT Guest Judge and 'Incredible' Wife Gabrielle Union

Recently-retired sports star Dwyane Wade, couldn't hide his admiration and made an adorable spectacle while speaking about his actress wife, Gabrielle Union.
PEOPLE recently interviewed Wade, and it was there the hunky star gushed about his experience appearing alongside his wife as a judge on "America's Got Talent." Wade was newly announced to be a part of the panel of judges on the reality competition, and he couldn't be more excited.
During his PEOPLE interview, Wade said:
"I hope my Golden Buzzer moment inspires others to never give up on their dreams."
Wade's jittery reaction didn't stop there as he diverted the subject of his speech to his wife of five years, Gabrielle Union.
"Joining my wife as a guest judge on America's Got Talent was such an incredible experience. Watching Gabrielle change people's lives and make dreams come true was very special," the 37-year-old star gushed.
His emotional rant was adorable, and it made it appear like Wade is a newlywed man. His speech is, however, not baseless given that Gabrielle has indeed made remarkable choices during her time as an AGT judge. The "She's All That" actress disclosed that every participant she happens to like is one she plans to cherish forever and the golden buzzer is her way of doing that.
"There are some acts that are so special that I say, I want to fall in love. Not just with your ability but with you as a person and root for you, care about you," Gabrielle once told PEOPLE.
Gabrielle only recently joined the show, but her avid devotion to it is indeed heartwarming, and it's even motivated her newbie co-judge hubby. Wade and Gabrielle are one of the celebrity love pairings that everyone approves of.
Their love has indeed survived the test of time, previous relationship fails, but even those have made them stronger. Now parents of four, three of whom are products of Wade's previous relationships, the pair has risen to become a fan favorite.
Wade mainly seems to have a thing for flaunting his adoration of Gabrielle. One such happened as he received an award at the ESPY Award show. Almost like a newlywed, the handsome star widely proclaimed his eagerness to remarry Gabrielle in five years.
The speech started with Wade confessing that Gabrielle had demanded he say something sweet about her onstage since NFL quarterback Drew Brees had done something similar, and Wade happily obliged.
"Darling you are amazing, you look incredible in this dress. I cannot wait 'til five years from now 'til I get a chance to marry you again," he said.
Just a few months ago, Wade brought his basketball career to an end, and that has allowed him to experience more "regular people" things. According to Gabrielle, that includes things like clothes shopping, getting a car wash and many others.
It was during an appearance on "The Late Night Show with James Corden" that the stunning actress delightfully detailed her husband's child-like amazement with the seemingly ordinary activities. She even revealed that Wade has no idea how much milk costs!
How adorable!
Please fill in your e-mail so we can share with you our top stories!