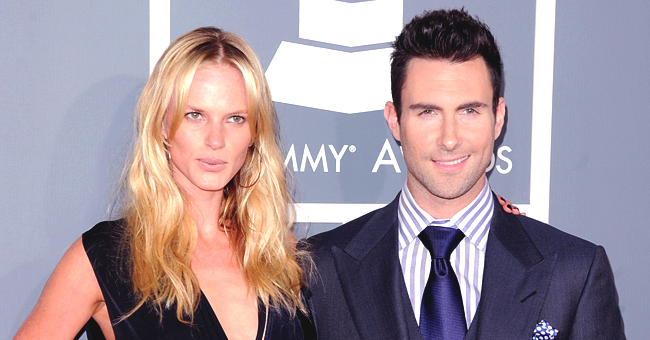 Getty Images.
Inside Adam Levine's Two-Year-Long Relationship with Russian-American Model Anne Vyalitsyna
Different emotional needs had Adam Levine's two-year romance with Sports Illustrated swimsuit model Anne Vyalitsyna come to an end just as rumors of their engagement started doing the rounds.
The pair first met in the spring of 2010 after Maroon 5 performed at a Sports Illustrated swimsuit party. A far cry from love at first sight, Adam thought Anna "stuck up," while her first impressions of Adam wasn't much better.
When Anna and Adam got to know each other, the pair hit it off so well that they even posed nude for Vogue Russia's November 2011 issue. The following month Anna gushed about her musician boyfriend. "He is an amazing guy; he's just a normal dude," she said. "He's like the most non-rock-star rock star ever. And he is very caring and very loving and very goofy and funny."
In December 2011 during Victoria Secret's annual Fashion Show, Maroon 5 performed their hit "Moves Like Jagger" while Anne strutted down the catwalk in blue and purple lingerie.
With Adam's eyes glued to his gorgeous girlfriend, he took Anne's hand and led her down the catwalk while he sang, showing her off. "We kind of wanted to make him as much a part of the show as possible," Anne said after the show. "We just tried to have fun and make it as cute as we could."
But then Anne' rep confirmed to PEOPLE on April 2, 2012, that the couple split. "Adam and I have decided to separate in an amicable and supportive manner. We still love and respect each other as friends. I wish him all the best," Anne said in a statement.
According to Adam, Anne confirmed the split to the public before she told him and called it a "cheap shot" on her part. "Anne didn't want it to look like he broke up with her. Adam's heartbroken. He wasn't even fully sure they were really broken up," a friend reportedly told Us Weekly.
Anne felt that Adam didn't pay her enough attention, while the friend added that Adam didn't feel ready for further commitment. "As a woman, you get to a point where you want to get married. Adam wasn't ready to take that step," Anne's friend said.
A few years later Adam got to the point where he felt ready for a family and married the supermodel Behati Prinsloo. Since then Adam became the proud father of Dusty Rose and Gio Grace, but Behati revealed in 2019 that he would like more little Levine's running around.
"He wants five. I thought I wanted five, but now I think maybe like, three or four will be good," she told Ellen DeGeneres in May 2019.
With Behati as a Victoria Secret Angel and Adam's status as a musician, the couple has high public profiles but keep their private lives out of the media, which made Behati's Father's Day post even more special.
"HAPPY FATHER'S DAY. We love you so much; you always put your family first, me and the girls are so lucky to have you. To all the dads in my life, thank you for being amazing father figures!" she wrote alongside a picture of them together.
Please fill in your e-mail so we can share with you our top stories!