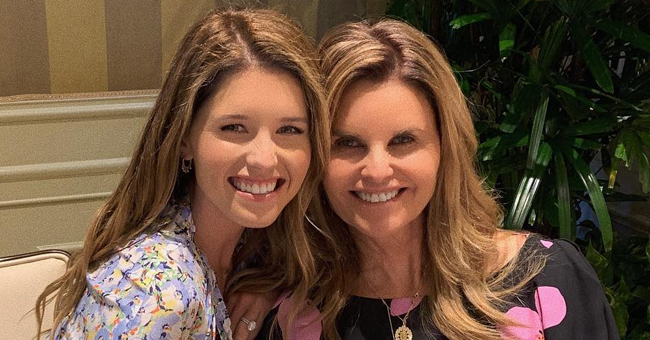 instagram.com/katherineschwarzenegger
Katherine Schwarzenegger Shares a Photo Taken with Her Beautiful Mother Maria Shriver

Katherine Schwarzenegger posted a picture on Instagram, which featured the new bride and her mom rocking beautiful smiles as they posed together for a mind-blowing snapshot.
What's more mind-blowing is the striking resemblance between the two Schwarzenegger women.
SPOT THE DIFFERENCE
Podcast host and new wife of Marvel's very own Chris Pratt showed off her lookalike mom, Maria Shriver in a recent social media post. The two women were all smiles as they struck the pose of a lifetime that could give anyone jitters.
Dressed in a lilac flowered printed dress, Kate Schwarzenegger looked all definition of gorgeous, while her mom, who wore a black dress patterned with bold pink flowers was not far behind.
The new bride's ringed finger could be seen on her mom's shoulder, displaying the telltale diamond band. The stunning resemblance between mother and daughter was remarkable as the two sat closely together, rocking similar hairstyles, with their faces joined affectionately.
LOVE IS IN THE AIR
The lifestyle blogger gave the post the sweetest caption ever, expressing her love for her NBC reporter lookalike. "I love my mama," she wrote, using a love emoji rather than the actual word.
The beautiful mother of Kate and her three adorable siblings was quick to show the world that she reciprocated her daughter's love. She took to the comment segment to relay how she felt.
"And I love my daughter."
Fan's were not left out in the love cascade as they went on about how much they loved the two women. Other comments reflected on how much similarities there were between the ASPCA ambassador and her celebrated mom.
KATHRINE'S GREATEST MENTOR IS HER MOM!
The Animal lover and her mom share a bond stronger than just physical similarities. They are also intellectual partners who admittedly rely on each other's counsel. The 29-year-old said in an interview:
"My mom always offers me a huge amount of advice with everything that I do."
She also gave credit to her dad, as she explained how her parents have always supported her all through her career. While talking about people who have inspired her to be where she was today, the author named her mom as the "A" lister before mentioning the likes of Anna Faris, ex-wife of her new companion.
The podcast host explained that she learned a lot from her mom about podcasts as she grew up watching mom on TV, having interview sessions with both acquaintances and total strangers alike. And about the former wife of the "Avenger's Endgame" star, she said:
"I really appreciate all the work that she has done. Learning from her is another huge gift."
ONE MONTH AND COUNTING
It has been over a month since the celebrity couple said their marital vows, making Kate the new Mrs. Pratt, and Stepmom of Jack Pratt, Anna's six-year-old son. The pair got married in early June, about five months after the news of their engagement flooded the media.
Since then, the newlyweds have continuously been spotted together, be it a visit to the church, or a workout session at the gym. They can't have enough of each other's company.
As it seems, not even the actor's mojo could stop the 29-year-old from sharing special moments with mama, but who's complaining? Katie's heart is big enough to contain so much love to go round.
Please fill in your e-mail so we can share with you our top stories!