Glimpse into Kirsten Vangsness' Relationship with Her 'Perfect Partner' Keith Hanson
Through her years on the crime drama "Criminal Minds," the bighearted actress Kirsten Vangsness found not only herself but also the "right person" for her.
Late in 2015, Kirsten got engaged to the writer/actor Keith Hanson after he proposed at the Redbury Hotel in Hollywood in front of family and friends.
'Criminal Minds' Star Kirsten Vangsness is Engaged to Keith Hanson! : Pe... https://t.co/uIMxiUIs3y pic.twitter.com/ujFyFS7yB1

— hypervocal (@hypervocal) November 24, 2015
Kirsten and Keith's relationship
Kirsten told PEOPLE in November 2015,
"He's the perfect partner for me, and I feel like we evolve. When you're so into somebody, and you get just to mush up next to them – that's the best part of it."
The couple didn't set a wedding date, and Kirsten knew her hopeless romantic fiance had "more requirements" for the wedding than she did. Irrespective, the actress had her own ideas for the wedding.
Kirsten joked,
"I might try to merge all my favorite things, so it would be like a Harry Potter/Chronicles of Narnia/dinosaurs/Doctor Who wedding. I asked [Keith] what he thought about getting a horse and putting a horn on it, and everyone could take pictures with a unicorn."
The following year during an interview with Smashing Interviews Magazine, Kirsten shared that wedding planning turned out to be harder than she anticipated. She said,
"I am the worst at the planning. There's the question, 'Will you marry me?' I answer, 'Yes. I will do that.' I don't know when that will happen, but I'll give you an answer. We don't have any plans in the works right now, but that's alright because love is messy,"
Kirsten's previous partner, Melanie Goldstein
Not the first time Kirsten had wedding bells looming, she previously became engaged to Melanie Goldstein in February 2009 after two years of dating.
In 2005 during her first season on "Criminal Minds," co-star Shemar Moore unwittingly helped Kirsten discover herself as "super queer." 
"I was just a guest star at first. I had two lines, and they kept making my part a little bigger. We got along famously, and he was flirting with me, and I remember thinking, I must be queer. I should be reacting differently to what he's doing." 
After "Criminal Minds" got nominated for a People's Choice Award in 2006, Kirsten showed up with a female date as her way of coming out. "I thought maybe that way I can kind of let everybody know I'm [queer]," she added.
Even though Kirsten had been engaged to a woman and a man, she doesn't identify as bisexual.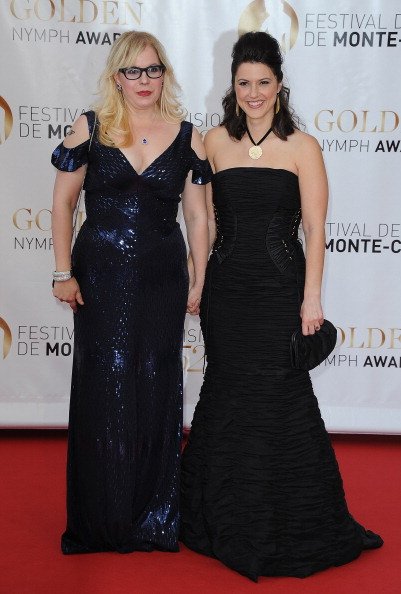 She explained,
"The person I'm with, I can tell you, is very, very special and the right person for me. I was not expecting it to be a guy, but everyone has his or her own intricate stories. If I were straight, I would say I was, but I don't totally understand it myself. I don't want to have an answer to something that I don't really have an answer to."
Kirsten's relationship with Melanie Goldstein ended in 2013. The pair split up on good terms after a unique relationship that lasted almost seven years.