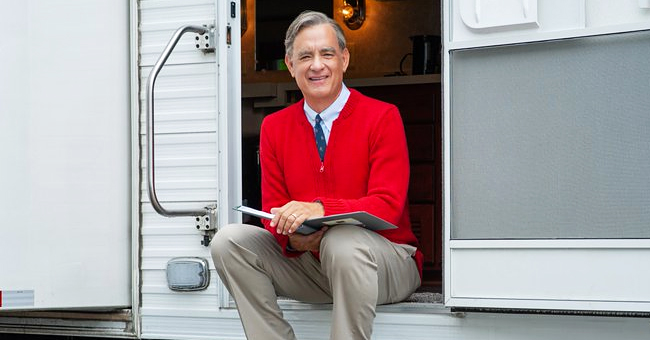 twitter.com/ABeautifulDay
Fans React to Official Trailer of 'A Beautiful Day in the Neighborhood'
On Monday, a new official trailer was released for the film A Beautiful Day in the Neighborhood. Fans couldn't help but react to Tom Hanks playing Mr. Rogers.
Fans of Mr. Rogers got to see the official trailer of the drama A Beautiful Day in the Neighborhood. In the movie, actor Tom Hanks, 62, plays the character Mr. Rogers - a favorite children's television host.
Fans have lauded Hanks on being the perfect actor or the part. The trailer for the film version of the daytime series is set to premiere on November 22, right in time for Thanksgiving.
Mister Rogers' Neighborhood entertained children from 1968 up until 2001. The movie was based on the true story of the friendship between Fred Rogers and journalist Tom Junod.
Fans of the series were thrilled to see how Hanks managed to capture Rogers' iconic demeanor and re-enact his show. Some fans couldn't help but recall fond memories leading them to mourn Rogers all over again.
Someone with the handle @PhishMOB replied to the movie's Twitter page writing:
"Fred is a national treasure! I am the kind adult I am today because I grew up with Fred on my TV screen. & casting the Kindness that is Tom Hanks is so [expletive] SPOT ON! This tweet made my morning!..."
Sherrie Lynn noted: "Tom Hanks can pull off any person in the entire world this man is the top actor of all actors." While someone named Frankie added: "…Tom Hank's performances pull you right into his characters, no matter what the movie's subject."
Movie journalist Annie Zaleski concluded:
"So I guess I might just spend a good couple of hours in the movie theater crying watching Tom Hanks play Mr. Rogers this Thanksgiving, huh? Misty for the "A Beautiful Day in the Neighborhood" trailer."
Last year, an acclaimed documentary called Won't You Be My Neighbor, was released to honor Rogers. The actor passed away in 2003, two years after he retired.
In 2002, the actor was diagnosed with stomach cancer. Since last January, producers have been working on creating A Beautiful Day in the Neighborhood.
The film focuses on journalist Lloyd Vogel's (played by Matthew Rhys) interpretation of Rogers' work. Vogel was assigned to write a profile of Rogers for Esquire.
In March, the first still of Hanks playing Rogers was released and the resemblance was uncanny! To transform into the late actor Hanks was seen wearing pleated khakis, a red cardigan, a white shirt, and a patterned tie.
The photo showed that Hanks was in character testing out Rogers' iconic shoe changes by tossing one loafer between his two hands.
Please fill in your e-mail so we can share with you our top stories!