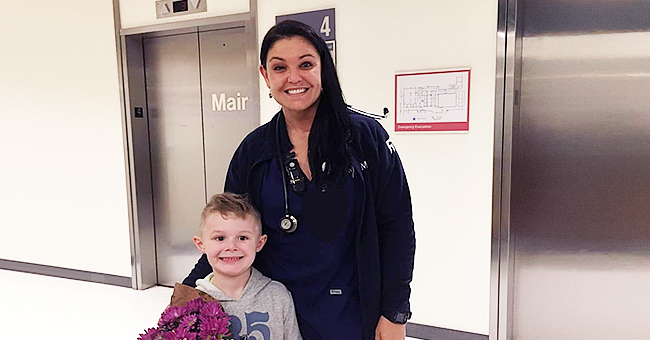 instagram.com/anniehager44
Nurse Annie Hager Thanked for Snuggling 5-Year-Old Slade Who Woke up Alone after Surgery (Photo)
When a young boy woke up from surgery with no family at his side, one exceptional nurse came to his rescue and comforted him in the most heartwarming way.
Kids and even many adults expect to have someone waiting for them whenever they complete a major surgery and wake up on a hospital bed. Sadly, Slade Thompson woke up one day with no loved ones around him at the UPMC Susquehanna Health Hospital in Williamsport, Pennsylvania.
The five-year-old's mother Layla Thompson spoke to Liftable about the journey to discovering and fixing why Slade walked only on his toes. The boy was restricted to a wheelchair for two months after getting surgery for his condition early this year.
In May, he went in for another surgery. According to Liftable, this one "would cauterize Slade's tonsils, adenoids and both sides of his nose." It required anesthesia, but when little Slade woke up, no one was by his side to comfort him.
Nurse Annie Hager, who was actually supposed to be off that day but opted to come in due to a shortage, was the only one nearby. When she saw and heard the lone patient, Hager rushed to his rescue. "Kids don't typically come out of anesthesia very happy," she told WNEP-TV.
A photo Hager posted to her Instagram showed a distressed Slade holding on to the caring nurse along with a lengthy caption describing what happened. Hager called the little one "the bravest 5yr old [she has] ever met!" She said that Slade was "calm and sweet, but obviously scared and in some pain."
All he wanted was someone to snuggle with him, and a considerate Hager was quick to jump in and comfort Slade with a much-needed hug. "His small sweet request made my heart so full!!!" Hager wrote. The story has since gone viral online.
Slade's mother arrived soon after and was overwhelmed by the kindness of Hager. She gave the compassionate nurse a bouquet of flowers and allowed Slade to give her another "BIG hug."
Hager thanked the family, saying she was blessed to have met them as they are the type of friends who make her love her job.
UPMC Susquehanna recognized Hager on their Facebook page where they wrote: "As a nurse, providing care is one thing, but making sure our patients are calm and comfortable matters just as much. It's nurses like Annie — who show true compassion — that keep our patients happy."
Another nurse who went viral for her thoughtfulness was Olivia Neufelder of Cookeville nursing home. When she had to take care of a 63-year-old named Margaret Smith, she went the extra mile and showed us again how some nurses have the kindest hearts.
Sadly, Smith was deemed terminally ill as a result of a combination of liver cancer and old age. When she was nearing her end, she asked Neufelder to sing a song for her, and the latter didn't hesitate to fulfill the woman's dying wish.
Smith's close friend Crystal Hamilton recorded the moment when Neufelder sang for the woman. She was moved to tears while singing, and Smith was moved to happiness despite her condition.
An exhausted smile told it all. Smith passed away two days later, but her request showed us the bigness of the hearts of nurses, and we're forever appreciative of these angels.
Please fill in your e-mail so we can share with you our top stories!