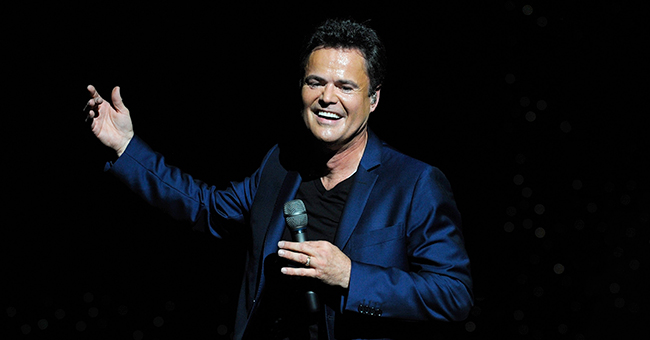 Getty images
Donny Osmond Shares Throwback Photo with Wife Debbie, Their 2 Sons, and Matt Damon

Former teen idol, Donny Osmond took to social media to share a rare sight of himself, his little family and fellow American actor, Matt Damon.
The picture is just a few days old but can be tagged a special one. According to Donny, the photo keeps memories of a night out to the "Jason Bourne" premiere.
Matt Damon, the star of the night, Donny, his wife of many decades, Debbie, and their two sons, Chris and Josh made a gorgeous spectacle during the night out.
They were all formally dressed with Donny and "Jason Bourne" star appropriately suited up in dark ensembles and the young men, suits of a dark shade of blue. Debbie was the glamorous queen in a black dress that had the top half of its bust elaborately designed with see-through fabric.
From the picture, it is obvious the gown also sports long sleeves and a fitted bodice which accentuated the former actress's curvy physique.
Donny's caption for the picture oozed of excitement as he recalled the night of the shot. He wrote:
"#Throwback to 3 years ago today when Debbie, Chris, Josh and I joined my buddy #MattDamon for the # JasonBourne premiere. Those action-packed car scenes did not disappoint."
The "Go Away Little Girl" crooner further shared that the "Jason Bourne" movies mean a lot to them pushing that the boys literally "grew up" watching them with him. He said:
"My boys grew up watching these movies together... *Bourne* and bred Jason Bourne fans! #FBF."
NETIZENS REACT TO THE RARE SIGHT
Soon after he shared the lovely picture, fans of the star took to the comments section to ooh and aah over the rare sight.
One, @lilstuff123 tweeted in reply:
"Great photo! Love the Bourne identity movies! Amazing people in this photo!"
Another @keynshamkid, however, had eyes on beautiful Debbie and commented:
"Lucky Debbie surrounded by 4 handsome men."
That couldn't be truer!
HOW DONNY INDEED "GOT THE GIRL"
Debbie and Donny have been married for decades and sure make the most beautiful children – a total of five sons. The pair are quite popularly known for their affectionate relationship despite having spent over 40 years together!
That is a laudable feat considering that they are both gorgeous celebrities. The perfect husband, Donny never ceases to express awe for his lover who he once revealed he "stole" from his brother, Jay.
In an interview with HuffPost Live, Osmond recalled that he first met Debbie back in 1976, while he was on a double date with Jay. Donny proudly said:
"I vividly remember when Elton sat down to sing 'Your Song,' I looked over at my brother and his date, and I thought to myself, 'Someday, I'm going to marry my brother's date.'"
After multiple tries, Debbie eventually agreed to date Donny, and they tied the knot a few years later.
Please fill in your e-mail so we can share with you our top stories!