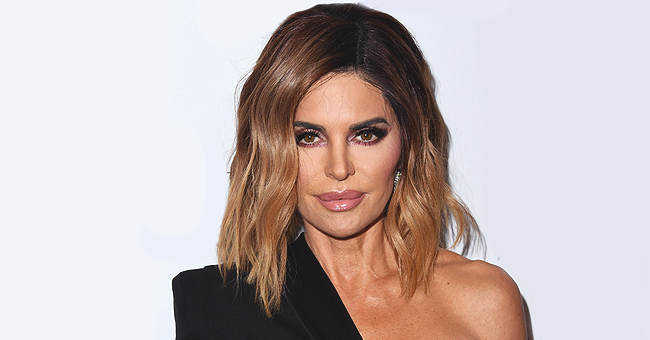 Getty Images
Lisa Rinna Reveals Daughter Delilah's Mental Health Struggles Were Caused by a Childhood Infection

Lisa Rinna of "Real Housewives of Beverly Hills" took time to reveal why her daughter, Delilah Belle Hamlin was struggling with mental health issues. She explained that Delilah's struggles were due to childhood infection.
Lisa Rinna took to Instagram to open up about her daughter, Delilah's mental health issues.
Delilah had earlier posted about visiting rehab twice last year, and her mom, Lisa's post was thus an avenue to address the reason behind Delilah's rehab visit and the condition that caused it.
PANDAS
Lisa began her Instagram story that her two daughters made her and her husband proud and that she was amazed by their bravery and courage.
She then went on to explain that a condition called Pediatric Autoimmune Neuropsychiatric Disorders Associated with Streptococcal Infections, abbreviated as PANDAS was responsible for Delilah's mental issues and subsequent visit to rehab.
She continued by saying that an estimated 10% of the pediatric population is bound to develop the infection at some level.
Lisa also shared a post from the PANDAS Network as part of her story. In the post, the Network explained that PANDAS occurs when strep triggers the wrong immune response, leading a child's brain to become inflamed.
The child will then begin to show a range of symptoms, which causes him or her to behave much different than usual. The symptoms may include OCD, anxiety, changes in personality, reduced eating, a decline in math, and the ability to write, and many more.
The actress further explained that her daughter's case was extreme, thus causing her to have severe anxiety and multiple phobias. However, her condition is now improved as they found the appropriate therapies to alleviate it.
Lisa concluded her post by urging parents whose children were having anxiety issues to visit PANDAS Network.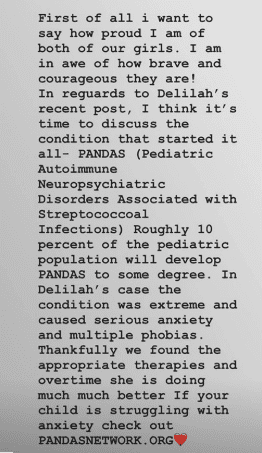 Screenshot from Instagram story of @Lisarinna
DELILAH'S EARLIER REVELATION
Three days before her mom's Instagram Story explanation of her condition, the 21-year-old revealed that she went to rehab twice last year.
She revealed this in a series of candid posts on her Instagram page, detailing the difficulties she faced in 2018. She, however, said that the rehab experience was life-changing for her, and tagged it as the best thing to have ever happened to her.
The model said she hoped that her revelation would spur people who were struggling and ashamed to share with others to do so.
Please fill in your e-mail so we can share with you our top stories!