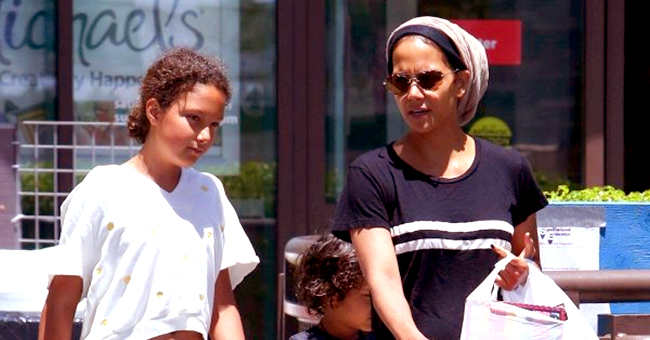 Twitter/closerweekly
Halle Berry Spotted on Rare Public Outing with Daughter Nahla and Son Maceo
Sunday will always be family day, and that's why Halle Berry brought her kids along as she went shopping.
She hit Michael's crafts store with Nahla Berry Aubry, 11, and Maceo Martinez, 5. With her kids rarely seen in public, it was surprising to see how Nahla is now nearly as tall her mom.
Arts and Crafts Day
The 52-year-old actress kept things casual as she purchased some items with her kids, most likely for one of their DIY adventures. She wore her hair in a knit beanie and had sunglasses on. To match her lazy day outfit, she wore baggy boyfriend jeans and a loose shirt.
Meanwhile, Nahla wore a pair of white coordinates with gold spots knitted on them, with her hair in a bun.
After heading to the craft store to buy some art supplies, they headed towards an In-N-Out drive through to get some grub.
A Family Affair
While seeing Halle with her kids is so rare, she was once spotted going shopping with Nahla, this time at an IKEA store.
The mother and daughter pair kept things comfortable as usual, wearing gray dresses that matched the Los Angeles weather.
Clearly, shopping is a lovely affair for the lovely family of three, and it's something they've done together over the years.
When Halle, Nahla, and Maceo are not out buying supplies or running errands, they're on vacation at luxurious places, or simply at home, doing different activities together and having fun with their pets.
On her baby daddies
Nahla is Halle's daughter with ex-boyfriend Gabriel Aubrey, whom she dated for five years from 2005 to 2010. They were in a messy custody battle for Nahla after Berry got with Olivier Martinez and moved to France.
In fact, things got so messy that Aubrey and Martinez engaged in a fistfight, filing restraining orders against one another. It was only in 2012 that they finally reached an agreement.
Meanwhile, she shares Maceo with Martinez, whom she was married with from 2013 to 2016.
She and her baby daddies have agreed to keep their kids out of the spotlight, trying their best to keep them away from social media and the public.
Please fill in your e-mail so we can share with you our top stories!