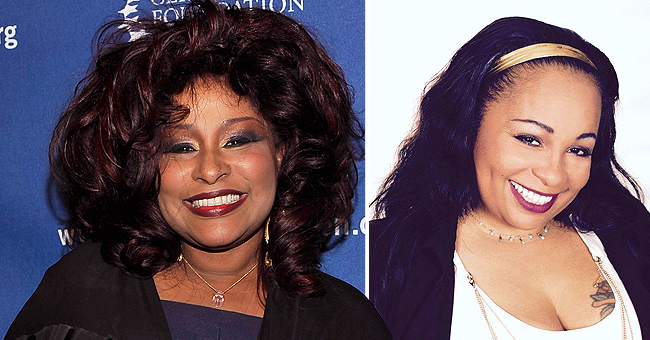 GettyImages Facebook/chakakhan
Meet Indira, Chaka Khan's Daughter Who's Pursued Music Career Just like Mom
Milini Indira Khan, the eldest daughter of singer Chaka Khan, grew up to follow her mother's career in the entertainment industry. She's a talented actress and an even more incredible singer that inherited Chaka's powerful vocals.
Indira Khan was born as the product of a relationship between Chaka Khan and Rahsaan Morris. She's the eldest child of the singer, as Chaka also has a son named Damien Holland.
Growing up, Indira developed a passion for music and singing after being around her mother and her famous friends while on tour. Chaka revealed in an interview with Quencie Thomas that Indira started singing at a very young age.
Her powerful vocals eventually led her to take part in Motown Records' now-extinct group Pretty in Pink, where she was credited for co-writing most of the group's songs. She also recorded with artists of the caliber of Miki Howard, Johnny Gill, Paula Abdul, and her mother, of course.
Indira, an R&B singer, also toured around the country with the Daughters of Soul before releasing her first EP, "Bathe Me," in 2015.
The now 45-year-old has also tried her luck in acting, and she did her debut in the big screen by interpreting a younger version of her mom on the 2016 film "Love Under New Management: The Miki Howard Story."
Talking about getting the role, Indira revealed that she had to audition like everyone else, and when asked if she had to get some pointers from her mom she joked saying: "No. That was like a no brainer like you can mock your mom, can't you?"
Chaka, on the other hand, said she was shocked after watching Indira in the role. "I couldn't believe it, really, it's crazy. She's a really good actor, and she's full of drama, high drama. She's funny. She's my favorite comedian."
Indira, who is also a mother of two kids, said that as an artist, she has come to understand some of her mother's actions in the past. For example, she used to resent Chaka for always traveling. She said:
"When I was younger, I only saw my side of it which was 'Why does she have to go? She can say no, sometimes.' But then, being an artist myself and having to travel, you see the painful side of it and the commitment side."
Despite her anger at the time, Indira admits she learned from a young age about commitment watching her mother, a black woman, working and supporting her children. And continued:
"So, I think that was a tremendous lesson for me as a little girl. To see my mother being productive, and my mother handling her business. Even though it took her away from me a lot, there was still a lesson in that."
Chaka Khan couldn't be prouder of her look-alike daughter, who seems to be dedicating more time to her children these days.
Please fill in your e-mail so we can share with you our top stories!