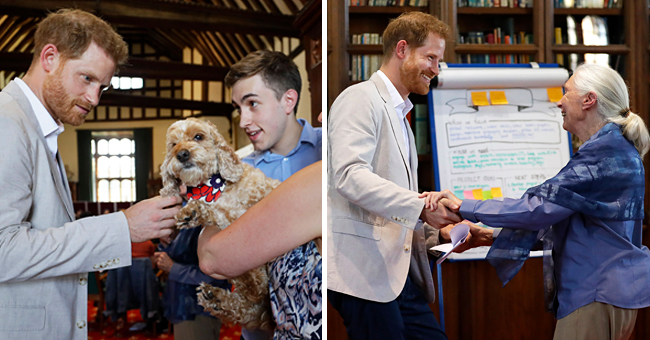 Getty images
Prince Harry Spotted Petting a Dog during an Event with Conservationist Dr Jane Goodall

Prince Harry met with Dr. Jane Goodall for a good cause but ended up breaking royal protocol. Who could really blame him though?
The Duke of Sussex invited the "world renowned ethologist and primatologist" to St. George's House at Windsor Castle on Tuesday to improve efforts made through her Roots & Shoots organization which focuses on conservation of both animals and the environment.
The organization, founded by Goodall in 1991, gives young people a chance to play a part, no matter how small, in making a difference in the world. Harry pointed this out in a speech he gave at the event. Photos are found below.
Harry reportedly told the attendees:
"The good news is that young people like you don't need to be convinced that we must urgently intervene [to help the planet]; you are actively doing this every single day, and your dedication to effecting change is outstanding."
He went on to quote Queen Elizabeth who said that "Sometimes the world's problems are so big we think we can do little to help. On our own we cannot end wars or wipe out injustice, but the cumulative impact of thousands of small acts of goodness can be bigger than we imagine."
The youth who were present shared what they were working on in their respective countries, all 26 of them, and exchanged ideas. Goodall reportedly started with only 12 Tanzanian students and has grown her organization into a 700,000-man force.
Among the intelligent kids and young adults, there was also a brown furry friend. The four-legged animal no doubt delivered the cute factor for the gathering and Prince Harry was powerless against its charm. He was caught in the act petting the dog, a reported break of protocol as a member of the royal family.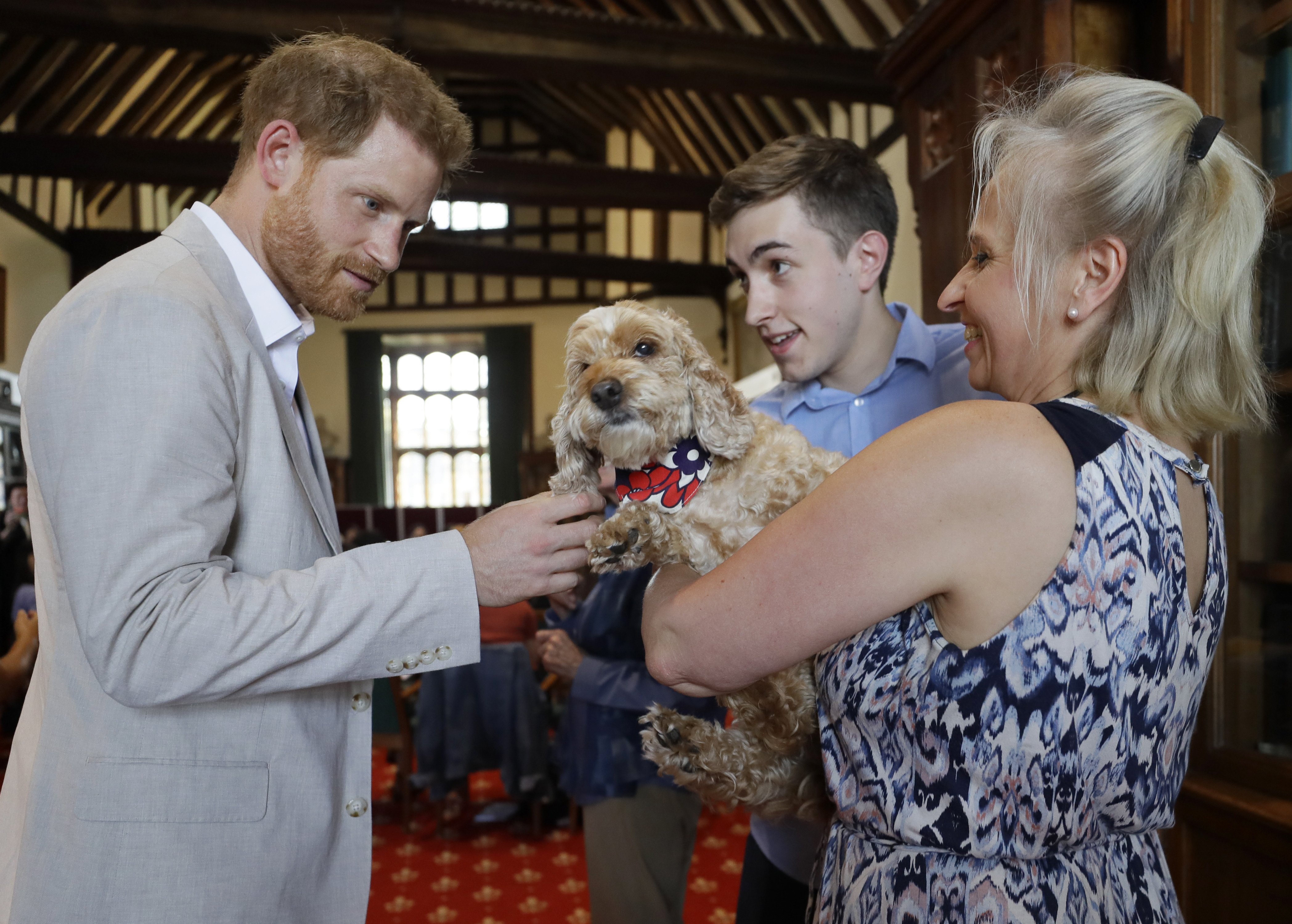 Prince Harry pets a dog during a Roots & Shoots meeting on July 23 at St. George's House, Windsor Castle | Photo: Getty Images
Everything else about the day's activities was in line with Harry's allowances as a royal, though. The duke is known to be active with animal protection efforts and is a conservationist alongside his wife, Meghan Markle. In 2017, he was in Malawi for three weeks as he assisted with transporting 500 elephants so they wouldn't get shot down by poachers.
Just last month, Harry and wife Meghan Markle focused their efforts on social media towards encouraging others to follow and actively participate in environmental campaigns. They are expected to visit South Africa in the fall and then Malawi and Angola later on.
Both Harry and Markle have an apparent weakness for animals when they get up close. They proved it by not only getting a pooch themselves but during a visit to Sussex in May when they petted some rescue dogs through a barricade.
As the two walked through the streets greeting admirers, Harry got his hands on a golden dog while Markle touched a black dog. We can't blame the royal couple for petting the adorable good boys who came out to see them. We hope they continue the trend in this break of royal protocol.
Please fill in your e-mail so we can share with you our top stories!