The Moment Prince Harry Explains Meghan's Pregnancy to Young Kids Is Just Adorable
The Duke of Sussex received a warm welcome at St. Vincent's Catholic Primary School on Wednesday and bonded with the children while they planted trees.
With Meghan Markle taking time off before the birth of their soon-to-be-born baby, Prince Harry arrived solo for his official engagement at the St. Vincent's Catholic Primary School in Acton, London.
As part of The Queen's Commonwealth Canopy initiative, the official visit's purpose was to plant a tree in support of the Queen's worldwide conservation initiative together with the Woodland Trust.
Upon Prince Harry's arrival at the primary school, excited youngsters greeted the Duke and adorably so, he explained to a group of children that Meghan is pregnant will bulging tummy gestures and all.
Here's Harry explaining to schoolchildren that his wife is going to have a baby. pic.twitter.com/A6KvFtjc0a

— valentinelow (@valentinelow) March 20, 2019
In anticipation of Prince Harry's visit, the schoolchildren made welcome banners with various messages wishing the royal couple all the best with their first baby.
Home-made bunting awaiting Prince Harry at St Vincent's primary school, Acton, where he is planting a tree. pic.twitter.com/FCFt1HQoNl

— valentinelow (@valentinelow) March 20, 2019
Before getting to the business of planting trees, Prince Harry had a sweet moment with another eager fan - Winnie the dog. Sitting next to his small, primary school owner knelt down beside him; all eyes were on Prince Harry as he walked over to greet them.
Well behaved, Winnie sat patiently with a little tail wag and a few gentle licks of the Prince's hand as he gave Winnie a few friendly head scratches.
Thank you to the children of @StVincentsActon (and Winnie the dog!) for the warm welcome today for The Duke of Sussex ahead of today's tree planting in support of the @QueensCanopy, together with the @WoodlandTrust. pic.twitter.com/7d4tdtI4W9

— The Duke and Duchess of Cambridge (@KensingtonRoyal) March 20, 2019
Not shying away from a bit of manual labor, Prince Harry rolled up his sleeves and showed the scholars how a hole gets dug.
He offered tips to some of the other students armed with spades and eager to help while he also explained the importance of trees and all the good they do for us and our environment.
The Duke of Sussex joined students at St. Vincent's Catholic Primary School in Acton today for a tree planting project in support of the @queenscanopy initiative, with the @woodlandtrust. 🌲🌲🌲 pic.twitter.com/es84sYRSwH

— The Royal Family (@RoyalFamily) March 20, 2019
Prince Harry may require some tips of his own in a few weeks after baby Sussex's birth, as first-time parents the couple is excited about the new change in their lives. But Meghan is not the only one taking leave after the baby is born, Prince Harry will take leave as well.
The Duke of Sussex informed aides that he would take two weeks paternity leave to support Meghan when their firstborn comes into the world.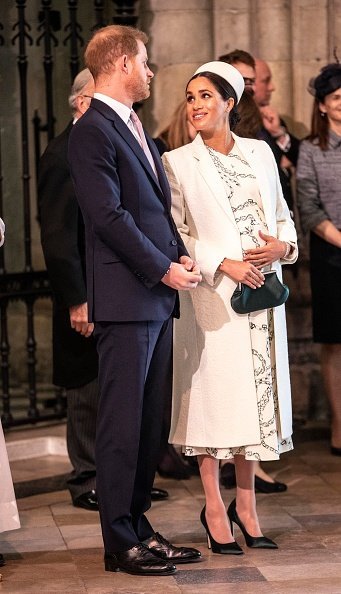 "He doesn't need to take paternity leave because he doesn't work in the way most people do, but he thinks it's a very modern dad thing to do," a source
said
.
Prince William also took paternity leave after the birth of him and Kate's first two children, Prince George and Princess Charlotte, however, the Prince was back for his royal duties two days after the birth of their third and youngest, Prince Louis.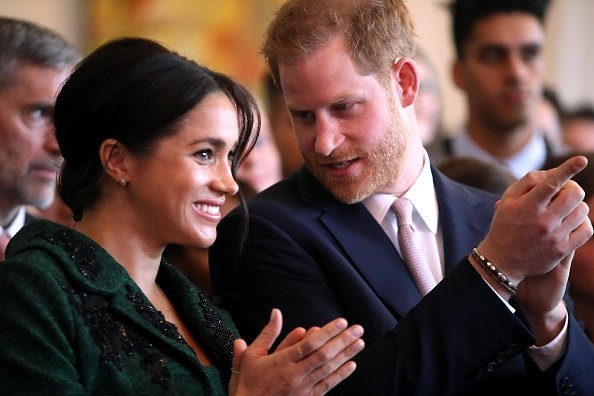 In the UK, fathers can take up to two weeks partially paid leave within the first 56 days after the birth or adoption of a child. Large companies with more than 50 employees offer 12 weeks of paternal leave but are unpaid.
Having that much time to take leave is very appealing but having to do without that money is not an option for most.
According to a Pew Research Study in 2017, 69% of Americans support paid paternity leave. Another survey conducted by Ernst & Young in 2017, supported the findings by Pew Study and showed 83% of Americans are more likely to choose to work at a company that offers paid leave. Another 38% would go as far as moving to another country to enjoy the benefits of paid paternal leave.
With Meghan's due date just around the corner, bizarre photo's generated by a website showed what the royal couple's baby might look like.