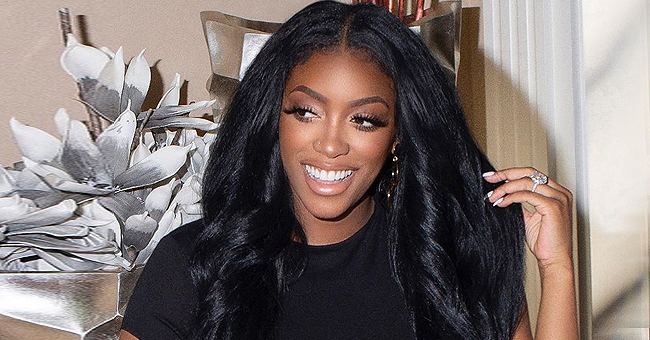 instagram.com/porsha4real
Porsha Williams' 'Perfect Sunday' Is Cuddling with 4-Month-Old Daughter Pilar (Photo)

Famous "The Real Housewives of Atlanta" star recently shared an intimate picture of herself and her adorable baby daughter via social media.
The picture which dates back to Sunday, July 14, was captioned,
"The perfect Sunday @pilarjhena," she sweetly wrote alongside a heart emoji.
In the photo, Porsha is pictured lying down on a plush chair with her little daughter, Pilar, who is just a few months old. Only their upper torsos is seen, and it shows that the famous model wore a colorful sleeveless getup.
On the other hand, a peek of little Pilar's baby outfit is seen as she laid against her mother's bosom. Pilar is so cute and the somewhat up-close picture shows her adorable baby features like her chubby cheeks, little button nose, and big eyes.
What is, however, the most beautiful thing about the image is how it seems to embody the intimate bond between the mother-daughter duo who seem content lying down in the picture.
Stricken by awe for the cute pair, netizens took to the comments section to send their shout outs to Pilar. One user, @queen_louise080 commented:
"She always looks so peaceful and unbothered."
Another @wdcnative humorously wrote:
"She has that 'ma can we go outside to the playground look!'"
While one avid supporter of Porsha, @jones.consuella commented:
"You always said you wanted a baby and now you got your doll baby, she is adorable!!!"
So far, the post has garnered well over 270,000 likes. It is indeed so sweet that Pilar's little chubby face can elicit such a frenzied reaction from netizens.
Born March 22, 2019, Pilar is the product of Porsha's short-lived relationship with American entrepreneur, Dennis McKinley. However, one of the curvy model's Instagram posts has reportedly made fans air speculations that the couple has reunited.
The post is a picture of McKinley and baby Pilar, and while it is a rather heartwarming one, the predictions remain mere rumors since there is still no word from the former lovers.
BCK Online recently aired reports that one of Porsha's family members confirmed that Porsha was not making plans to get back together with Dennis in the near future.
"There is a tiny, tiny, tiny chance they would get back together, [But] likely no," the unidentified source said while speaking to Us Weekly.
Meanwhile, fans can't stop their oohs and aahs over little Pilar who proud mama Porsha even specially created an Instagram page for. The evidence of Pilar's fame is the multiple followers she has already amassed despite being just a few months old!
Please fill in your e-mail so we can share with you our top stories!