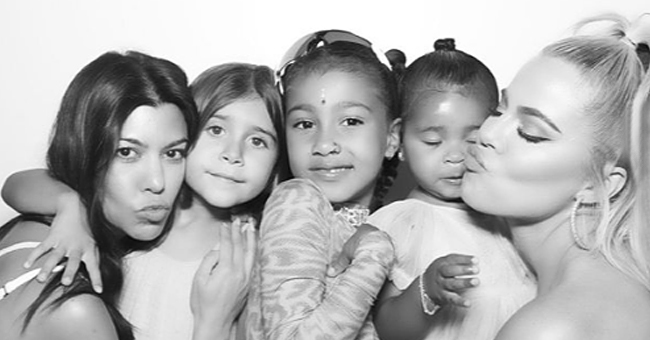 instagram.com/krisjenner
Critics Slam Kim Kardashian for Daughter North Wearing a Nose Ring in a Photo Taken on MJ's Birthday

Kim Kardashian-West received backlash for allowing her eldest daughter, North West, 6, to wear a nose ring during her grandmother MJ's 85th birthday.
After photos of North West surfaced the internet, critics slammed her mom, Kim Kardashian-West, for allowing her daughter to wear a nose ring. The beauty mogul later clarified that the piece of jewelry was not real.
'FAKE NOSE RING'
The photo posted by Kris Jenner showed the six-year-old with her cousins, Penelope, 7, and True, 1, together with Kourtney and Khloe Kardashian, smiling in what seems to be a photo booth at the party.
Kardashian-West took to her Instagram story to post the same photo with the words "fake nose ring alert!!!" written over it. However, she still received backlash from Instagram users who flooded the comment section of Kris' post.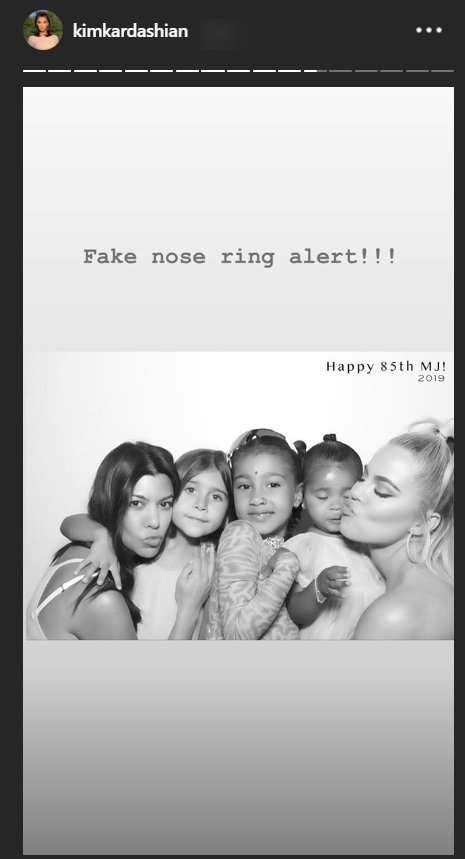 Instagram.com/kimkardashian/
COMMENTS FOR KIM
"Why df kim let north have a faux nose ring she too damn grown," read one comment.

Instagram.com/KrisJenner

Instagram.com/KrisJenner
"Kims letting north grow up too fast dark makeup/lipstick now piercings smh," read another.

Instagram.com/KrisJenner
This instance was not the first time the aspiring lawyer was called out for her parenting skills. When North West was four-years-old, a photo of her wearing a peach and white dress, with a top looking like a corset, went viral and became controversial.
DRESSING FOR HER AGE
Fans and followers of the Kardashian family felt that her choice of outfit, which her mom allowed her to wear, was inappropriate for a toddler. Many called out Kardashian-West to dress her child in regular clothes for kids.
North's mom quickly addressed the issue and made it clear that it was not a corset, but only a design. She took to Twitter her explanation along with a close-up photo of the garment.
"I would never put my daughter in a corset! It's a dress I bought that is a cotton fabric that laces up & looks like a corset! Just decoration," she wrote.
Please fill in your e-mail so we can share with you our top stories!