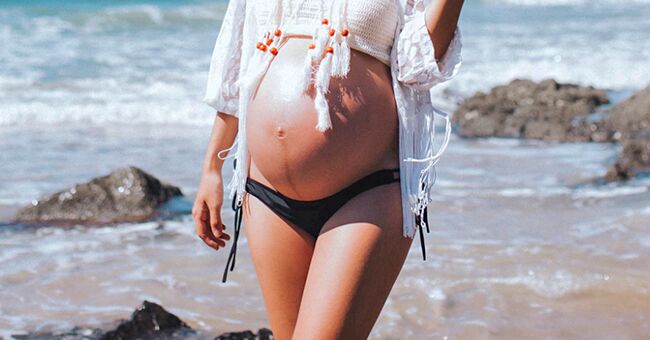 unsplash.com/Anthony Tran
33-Weeks-Pregnant Stephanie Swedberg Hailed a Hero after Rescuing a Boy from Drowning at Crystal Beach Park
Former lifeguard and swimmer, Stephanie Swedberg, saved a little boy from drowning at 33-weeks pregnant -- her first rescue ever.
On Sunday morning, a little boy fought to stay afloat as his mother yelled for help at Crystal Beach Park. Luckily, 33-week pregnant Stephanie Swedberg was at the same area and rushed to help the drowning boy, according to Fox 9.
IN THE RIGHT PLACE AT THE RIGHT TIME
Swedberg, a former lifeguard and competitive swimmer, was at the lake to practice floating with her toddler twins. She and her sister were a few meters away from a group of boys who were playing in the deep water when she heard screaming.
"I didn't realize anything was off until I saw one of the moms fully dressed, sprinting into the water, and screaming for somebody to help her son. Then I looked over, and I saw one of the boys unable to keep his head above the water," Swedberg recalled.
STAYING ALERT
In an instant, the pregnant mother swam off to save the boy whom she said was not screaming, but "thrashing" and "bobbing." The boy, who admitted to having a few swimming lessons, was saved and Swedberg was hailed a hero.
Although the boy's mother was right for keeping a lookout on her child and immediately screaming for help, Swedberg still encouraged him to take swimming lessons, more than he already had.
LITTLE HERO
There are many instances of kids being saved from drowning, but Georgia's Aiden McCullough's story was quite different. The seven-year-old boy saved his sister, Morgan Smith, 20, from drowning in their pool at home.
Smith recalled seeing black spots before falling backwards into the pool, to which Aiden quickly came to the rescue. According to the little boy, he immediately thought that his sister was going to die, so he jumped into the pool to save her.
"I know that there are real-life angels because I'm lucky enough to call him mine. I have an everyday superhero in my life," Smith said.
Please fill in your e-mail so we can share with you our top stories!