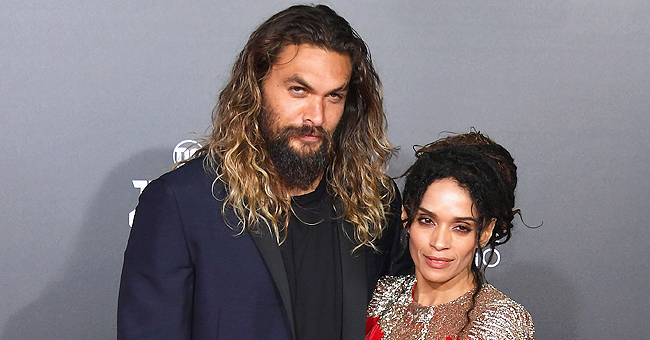 Getty images
Jason Momoa Shares Photos Taken with Wife LIsa Bonet & Kids from Their Daughter Lola's Birthday

Jason Momoa gave his daughter, Lola, a birthday treat to remember by taking his family to see the newly released Lion King Movie. He shared photographs of the outing on his Instagram page, and his fans loved it.
Jason Momoa and his family enjoyed a nice day at the cinema as they watched the hit movie that has got the world raving.
The occasion was made more special as it was his daughter, Lola's twelfth birthday. The beautiful family took time to take some photos, and the "Aqua Man" actor duly shared some of the pictures with his fans on Instagram.
JASON MOMOA'S POST
The actor, also known for his starring role as "Khal Drogo" on the hit seasonal epic blockbuster, "Game of Thrones," posted pictures of his family posing on the red carpet, in front of Lion King Backdrop.
He also posted an image of his two kids, Lola, and Nokoa-Wolf inside the cinema hall. There was another picture that showed the actor with the birthday girl Lola, while the last picture shared showed him with his son. The family looked delighted and excited in the photos.
The hugely built actor's caption of the post was filled with emotion. First, he wished Lola a happy birthday, and expressed happiness at being home with his "Ohana."
He then thumbed up Disney for letting his family have a party for Lola while going on to commend the moviemakers, as it filled him with emotions, even making him cry numerous times in front of a bunch of children.
THE KIDS RECEIVE GIFTS FROM UNCLE ERIC
Jason Momoa made another post of him and his children at the DeathWish SkateBoards, where they went to get skateboards courtesy of their Uncle, Eric Ellington.
Lola and her brother were delighted with their new customized skateboards and thanked their uncle in one of the video clips accompanying the post. It was a birthday to remember for the beautiful Lola.
LENNY KRAVITZ PRAISES JASON MOMOA
Jason Momoa's wife, Lisa Bonet was formerly married to Lenny Kravitz and had a daughter, Zoe Kravitz, 30 with her. The pair divorced in 1993, but continue to have a friendly relationship.
Lenny, a musician, explained that he and Lisa took time to become best friends again and that their friendship also extended to her husband, Jason, who he described as a brother to him.
He also expressed love for Jason and Lisa's Kids, saying that their families were blended. Jason also shares similar sentiments towards Lenny, as he previously shared a photo of the two wearing matching skull rings late last year.
Please fill in your e-mail so we can share with you our top stories!