Beth Chapman's Daughter Cecily Recalls First Message to Fans after Her Mom's Cancer Diagnosis
The world is still crying for Beth Chapman, who lost her battle to cancer on June 26, but despite the pain, her family has plenty of great memories of her that they will forget.
Two years ago, when Beth was first diagnosed with throat cancer, her daughter Cecily took to Instagram to say how happy she was for having been able to have fun with her before the bad news arrived.
In the photo that was recently shared with her fans and followers through Instagram Stories, Cecily can be seen smiling widely at the camera alongside Beth, a moment that shall never fade.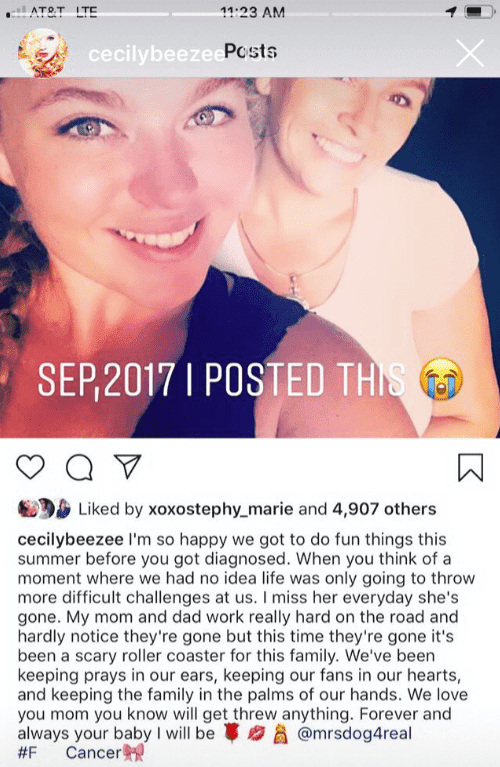 TERRIFYING TIMES
In the caption, Cecily revealed how scary it was having Beth and Duane "Dog" Chapman, her stepfather, away from home, something that she had grown used to throughout the years.
However, that time they were gone because they were seeking treatment for Beth and not on the road, pushing their bounty hunting business forward. That was what made it scary for her.
She wrote:
"My mom and dad work really hard on the road and hardly notice they're gone but this time they're gone it's been a scary roller coaster for this family."
THE FAMILY FOUND COMFORT IN FANS' PRAYERS
Cecily, who is currently 26 years old, said that they had been keeping prays in their ears, fans in their hearts and the family in the palms of their hands.
Cecily finished the sweet tribute to Beth by saying that she loved her and that she could get through anything, leaving the promise that she would always be her "baby."
STILL HONORING HER BELOVED MOTHER
Beth is sadly no longer with us, and fans all over the world cried alongside the Chapmans as they announced her departure. Hundreds even showed up to her memorials, both in Hawaii and Colorado.
Now, almost one month after experiencing one of the worst pains anyone can ever feel, Cecily continues to keep her mother's memory alive by sharing emotional posts of her on social media.
In one of her most recent entries, the grieving daughter showed the world a picture of Beth smiling, with a caption saying that she is still patiently waiting for her to visit her in a dream.