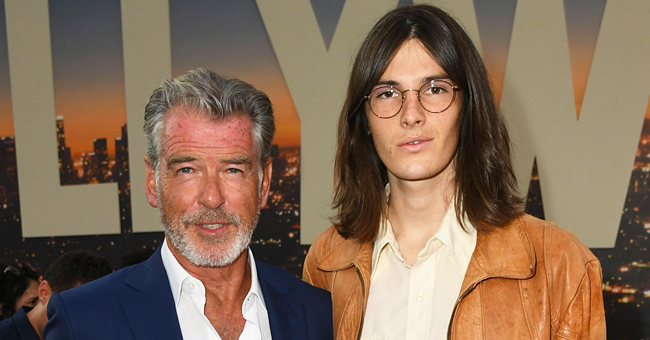 Getty Images
Pierce Brosnan Makes a Rare Appearance with Model Son Dylan at La's 'Once upon a Time in Hollywood' Premiere
The Irish-born Hollywood actor and his lookalike son were photographed together on the red carpet during the premiere of Quentin Tarantino's latest feature film, and the young man flaunted his sense of style.
22-year-old Dylan Brosnan accompanied his father 66-year-old actor Pierce to the premiere of "Once Upon a Time in Hollywood" at the TLC Chinese Theatre in Los Angeles on July 22 and he didn't go unnoticed.
As Daily Mail pointed out, Dylan might have been inspired by the film's 1960's setting when choosing his outfit for the night, donning a vintage look that proved he has a developed sense of style that reflects his choice of a career.
VINTAGE VIBES
The fashion model could have easily had a part in Tarantino's movie dressed like he did for the occasion. Dylan wore a pair of high-waisted powder blue bell-bottomed pants.
He wore a white button-up shirt with a tan leather jacket on top, and added a pair of sporty shoes with details in blue and red. The look suited his long dark hair, and his retro wire-frame glasses contributed to the vintage vibe.
Dylan's father and former 007 Pierce, looked as elegant as usual wearing a navy suit with an unbuttoned white shirt. Dylan is considerably taller than his father.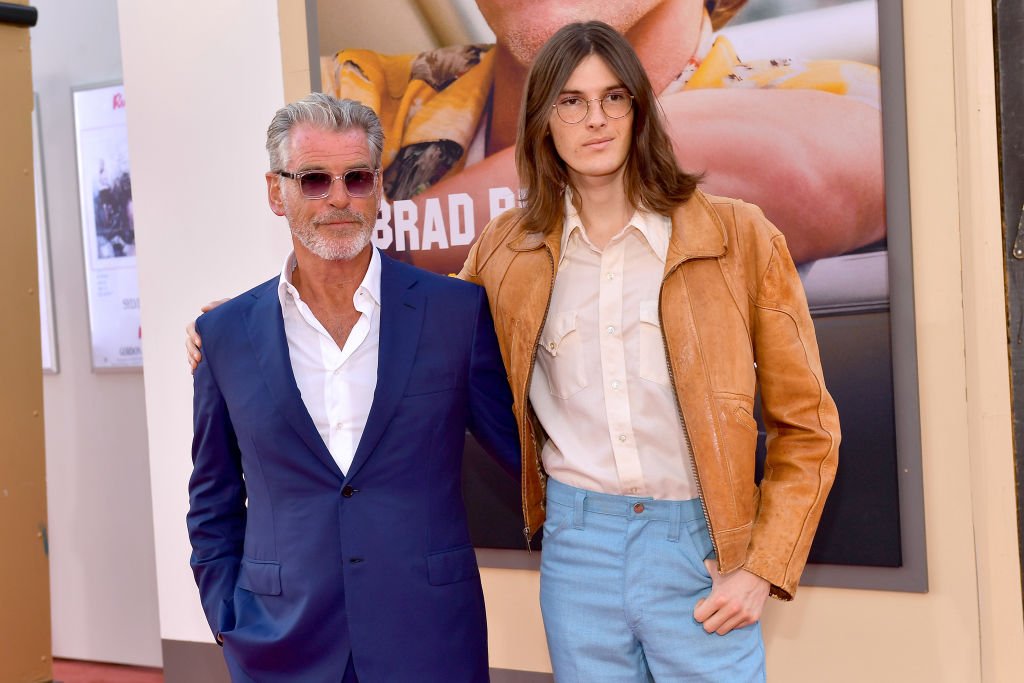 Pierce and Dylan Brosnan. I Image: Getty Images.
IT RUNS IN THE FAMILY
While Pierce's good looks helped paved the way for him to become a famous an acclaimed actor, Dylan and his younger brother 18-year-old Paris, who both inherited their father's handsomeness, are taking advantage of it to conquer the fashion industry.
Dylan got started at age 16, after being discovered by famous photographer Hedi Slimane in 2013. He has done work for brands such as Yves Saint Laurent and Burberry, and has appeared in the cover of Elle Russia.
Paris debuted at 17 in a runway show for Dolce & Gabbana. Since then, he has been featured in several magazine covers, such as MMSCNE, GQ Korea, and Vanity Teen.
Paris and Dylan also take after their mother, 54-year-old Keely Shaye Smith, who used to work as a model in her younger years.
PIERCE REMARRIED AFTER LOSING HIS FIRST WIFE
Smith is Pierce's second wife. The two married in 2001, seven years after meeting for the first time during a beach party in Mexico.
Pierce had sadly lost his first wife, Australian actress Cassandra Harris, to cancer three years before crossing paths with his Smith.
Before Harris' death, she and Pierce had son Sean (36) together. The actor also adopted Harris' two children from a previous relationship: 47-year-old Chris, and Charlotte, who also died from cancer in 2013, aged 41.
Please fill in your e-mail so we can share with you our top stories!