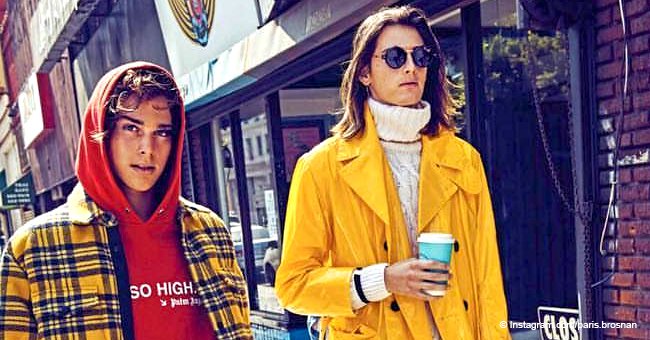 Pierce Brosnan's handsome sons are all grown up and working as professional models
The Irish-born actor has married twice and had five children. While his oldest three were involved in one way or another to the film industry, the two youngest are making their way into modeling.
Despite having a long and successful career spanning forty years, 65-year-old Pierce Brosnan earned his place in popular culture for his work in four "James Bond" films between 1994 and 1995.
But something that is not so widely known about this Hollywood star is that all his children are or were involved in entertainment and recently in the fashion industry.
Brosnan married Australian actress Cassandra Harris in 1980, adopting her two children from her previous marriage before having one on their own. They are Charlotte, Chris, and Sean Brosnan.
Harris passed away in 1991 due to ovarian cancer, something that was very difficult for the actor, who fortunately found love again in his current wife, 55-year-old journalist Keely Shaye Smith.
Smith and Brosnan have spent 19 years happily married and they share sons Dylan and Paris. While these two are the least known of the Brosnan children, they are starting to make a name for themselves in the world of modeling.
DYLAN BROSNAN
22-year-old Dylan Brosnan has many interests, from singing and writing songs to cinematography, but he is having success as a fashion model, since famous photographer Hedi Slimane discovered him in 2013 at age 16.
Since then he has worked as a runway model for brands like Yves Saint Laurent and Burberry, apart from being featured in the cover of Elle Russia.
Dylan signed with the prestigious agency IMG Models, which manages some of the industry's big names like Gigi and Bella Hadid, Alessandra Ambrosio, and Noah Mills.
PARIS BROSNAN
17-year-old Paris Brosnan followed his older brother steps and had his debut in a runway show for Dolce & Gabbana, which is known for their inclination for celebrities' children such as the Stallone sisters.
The young model is represented by the Next Model agency since 2017. Paris has been featured in several magazine covers, including MMSCNE, GQ Korea, and Vanity Teen.
In September 2018, Paris was part of Ralph Lauren's 50th birthday anniversary event, with a proud Pierce Brosnan present among the audience, who further supported his son by sharing pictures of him in social media.
HIS THREE OLDER CHILDREN
Late Charlotte Brosnan had a brief career as an actress before her death at age 41 because of the same illness that claimed her mother's life 22 years before, leaving her father devastated.
She notoriously starred in "The Disappearance of Kevin Johnson" and appeared in the TV show "NYPD Blue."
46-year-old Chris Brosnan has worked in different areas of film and TV, mostly behind the camera, and has served as Assistant Director in a few films, including to of his father's as James Bond.
35-year-old Sean Brosnan has many achievements as both actor and director, working in film and TV. His most famous role was on "Generation Kill," where he played Cpl. Daniel Redman.
Sean debuted as an actor in 1997, sharing the screen with his father in "Robinson Crusoe." In 2016 he released his first feature film "My Father Die." Since 2018 he has been part of the cast of "No Easy Days."
PIERCE BROSNAN'S RECENT APPEARANCES
In January 2019, Brosnan was spotted walking the streets of Chelsea, the UK, elegantly dressed as he went out for lunch with his 85-year-old mother Mary Smith, in a display of his Old World charm.
Brosnan, who reprised his role of Sam Carmichael in 2018's "Mamma Mia! Here We Go Again" took to his Instagram account recently to share a picture of a special moment he had with his colleagues Amanda Seyfried and Hugh Jackman.
"So there I am sitting in the airport lounge at Geneva airport and who should walk into my day but Amanda and Hugh ...love you both and all the work that you do. Safe travels," Brosnan captioned the snapshot.
Curiously, both Brosnan and Jackman have played Seyfried's father figure on the screen. Brosnan did it in the two "Mamma Mia" films and Jackman in 2012's "Les Misérables."
Please fill in your e-mail so we can share with you our top stories!