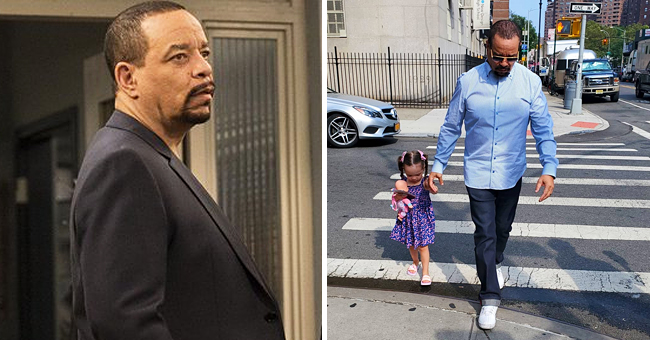 twitter.com/PureWow / instagram.com/babychanelnicole
Ice-T's Little Daughter Chanel Has Fun on the 'Law & Order: SVU' Set
One way or another, children always inherit some of their parents' features, but sometimes they end up looking just like mini versions of the original molds.
Chanel Nicole, Ice T and Coco Austin's daughter, is one of those cases. As she grows older, more and more of her father's features can be seen popping up.
Fans immediately noticed that in the most recent photo shared on her official Instagram page, where she can be seen walking alongside her father.

Photo: Instagram/babychanelnicole
LIKE FATHER, LIKE DAUGHTER
In the picture, little Chanel is grasping Ice T's hand as they make their way across the street and the way they walk is practically identical, from the pose to the facial expression.
The word "twins" was the most used by fans in the comment section and it is quite easy to understand why, particularly in the third photo, where Chanel is looking at the camera.
The little one, who spent the day with her father on the set of "Law & Order: Special Victims Unit," definitely has her father's eyes, nose and cheeks.
As she grows older, more and more of her father's features can be seen popping up

Photo: Instagram/babychanelnicole
SHE'S A RISING INSTAGRAM STAR
Born on November 28, 2015, Chanel has almost half a million followers on Instagram and her profile reads: "Bow queen, old soul, animal lover, modeling and performing is in my blood!"
Her page is obviously run by her parents, mainly her mother, who just can't get enough of her little bundle of joy. The two have become known for posing in very similar outfits.
A PROMISING FUTURE IN FASHION
Recently, the mother-daughter duo shared a few photos where they can be seen wearing identical swimsuits, at least when it comes to their colorful patterns.
While Chanel's was a cute blue, purple and white one-piece, Coco's was a revealing two-piece, which put her ample curves on display as they lounged around in a boat cruise.
Coco and Chanel share a bond that goes beyond fashion, but the little one sure seems to love posing for the camera and wearing the same outfits as her mother.
Please fill in your e-mail so we can share with you our top stories!