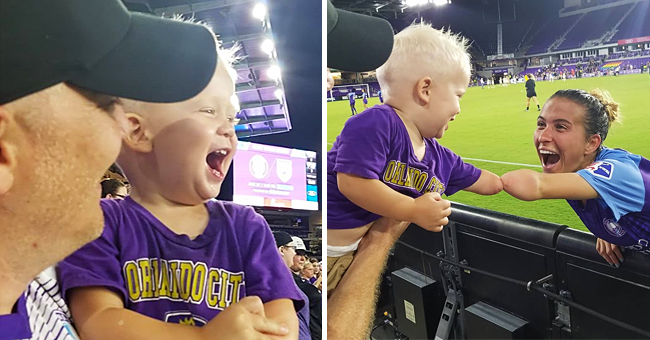 instagram.com/tiddbit_outta_hand
Joseph Tidd Who Was Born without Left Hand 'Fist Bumps' Soccer Star Carson Pickett with the Same Condition

A picture of a young boy who's missing his left arm fist-bumping soccer player Carson Pickett is melting hearts everywhere because of the pair's shared condition.
Joseph Tidd is just over a year and a half, but he's already made one of the most meaningful connections in his life. The tot came out to watch a match of Australia's W-League and Orlando Pride and ended up fist-bumping one of the players.
That player was none other than Carson Pickett, 25, who Tidd and his family were cheering on from the sidelines. Pickett suffers from a condition called symbrachydactyly, which is a limb reduction defect that occurs in the womb.
So when Pickett came over to fist bump her friend, the two created a priceless moment between them. In a photo shared to Tidd's account, the bright smiles on both of their faces were incredibly heartwarming.
Pickett and Tidd were both born without their left arms. Though the picture was taken since last month, it went viral recently when Tidd's mother Colleen shared it to her Instagram account
In the original post shared by his parents, they said he "couldn't stop giggling!" after the fist bump. "Carson is such a great role model," the caption continued.
This wasn't the pair's first meeting. The two first met back in April after Pickett's team Orlando Pride played a game. A reporter and family friend who worked with the team got them connected, reported The Washington Post.
In a clip shared online, Tidd approaches Pickett who raises her arm up at him to show their similarities. After some thinking, the little one gives a laugh upon realizing that he and Pickett are uniquely alike.
Mom Colleen reportedly said that the two were "best friends" after the incident. "It took a minute for him to realize, 'Wow, we've got the same arms,' and then he just giggled. You could see it hit him."
Today also spoke to the parents of the soccer player, and father Miles described how he intentionally raised his daughter to believe she could do anything. The phrase "I can't" wasn't allowed to be spoken in the houeshold.
Miles wants the young boy to have a similar attitude as he grows. The tot is already quite the sportsman, playing "football, basketball, baseball, [and] soccer" according to his mother.
The Centers for Disease Control and Prevention reports that about 1,500 kids are born with upper limb reductions and 750 with lower limb reductions in the United States each year.
Meanwhile, the US Women's Soccer Team secured their fourth victory in the FIFA Women's World Cup by outplaying the Netherlands on Sunday. While they didn't get to meet Picket, someone else congratulated them on Twitter.
Barack Obama, former President of the United States, congratulated the team for their 2-0 win which took place in Lyon, France. "Back to back," the president said. He called the women "incredible" and described how they inspired the rest of us before concluding, "Love this team."
Please fill in your e-mail so we can share with you our top stories!