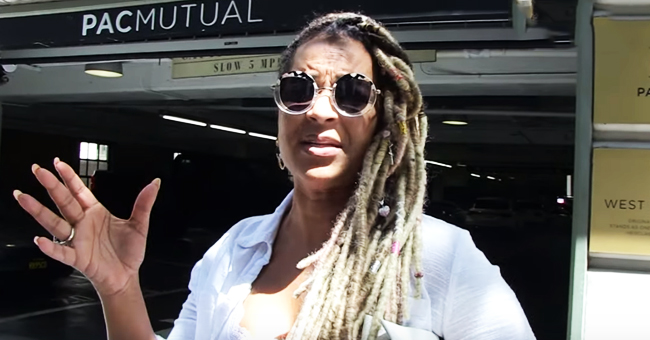 youtube.com/TMZ
Nicole Murphy Allegedly Denies LisaRaye's Claims That She 'Messed around with My Husband'
Nicole Murphy has just become public enemy number one after she was caught on camera kissing a married man.
Social media was agog when a photo surfaced showing Eddy Murphy's ex-wife Nicole Murphy smooching married director Antoine Fuqua.
Nicole apologized publicly to his wife, Lela Rochon, but that just seems to have enraged LisaRaye McCoy, who dished out the dirt on the actress' past behavior.
"Gurl @nikimurphy you went after @iamlelarochon husband too?...smh So wrong....again!!!" LisaRaye
AN ITALIAN INDISCRETION
Nicole and Antoine were caught kissing at what looks like breakfast, with the "Hollywood Exes" alum wearing only a string bikini and a transparent wrap, while the director had a towel wrapped around his hips.
Another indiscreet snap at the poolside shows the two locking lips yet again - but Nicole says it's a "family-type" kiss.
LisaRaye has come out after the recent scandal to reveal that Nicole Murphy is a habitual seducer of married men
NICOLE MURPHY APOLOGISES TO LENA ROCHON
Since the photos became public, Nicole has apologized to Antoine's wife Lena Rochon, first by saying that it was 'just' a family-type kiss, and then adding that she didn't know he was still married.
But LisaRaye McCoy has claimed that for Nicole, going after other women's husband's is a habit.
LISARAYE MCCOY CALLS NICOLE MURPHY "A HOMEWRECKER"
LisaRaye pulled no punches and called Nicole a homewrecker, saying that the actress had gone after her then-husband Turks and Caicos politician Michael Misick.
NICOLE MURPHY DENIES LISARAYE MCCOY'S ACCUSATIONS
Of course, being branded a habitual cheat didn't sit well with Nicole, who heatedly denies ever having been involved - or attempting to seduce - LisaRaye's husband.
"It's not true. She's [LisaRaye's] been saying that for years. There's no truth to that," Nicole said.
The truth of the matter is that Nicole knew that Antoine Fuqua was married, and as far as we can see, that type of kissing only goes on in families between mommies and daddies...
By the way? Why is no-one turning the heat onto Antoine? He knew he was married, didn't he?
DA BRAT CONFIRMS NICOLE MURPHY WENT AFTER HER SISTER'S HUSBAND
Nicole Murphy may deny all wrongdoing as far as LisaRaye McCoy is concerned, but it looks like Da Brat is stepping forward to corroborate her sister's claims.
"Absolutely. When my sister was First Lady of Turks & Caicos it was a couple of them hoes that did that," Da Brat said.
LisaRaye has come out after the recent scandal to reveal that Nicole Murphy is a habitual seducer of married men, and tried out her wiles on her then-husband, Michael Misick.
They do say that past misdeeds always come back to bite you...
Please fill in your e-mail so we can share with you our top stories!