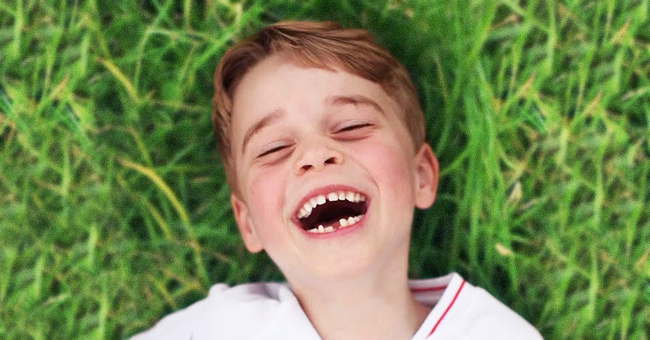 instagram.com/kensingtonroya
Prince George's England Soccer Shirt in His Birthday Photo Causes Online Controversy
What was meant to be a little boy wearing the jersey of his favorite sport turned into an online controversy, as Prince George's birthday photo got frowned at by netizens.
Prince George's England soccer jersey led to an online controversy that claimed that Kate Middleton and Prince William's son is not well-traveled around the countries in the United Kingdom.
Twitter blog, Gert's Royal, tweeted that the photo of the Prince is centered on England, and went a step further to point out that all the pictures of the little boy and his siblings are centered in the English country.
The blog equally noted that the Duke and Duchess of Cambridge's son does not have any official photo or appearance in the other countries that make up the UK, that is, Scotland, Wales, and Northern Ireland.
The criticizing tweet shed light on the belief that the Royals give the England team a preferential treatment, rather than support the teams of the countries they represent equally.
The controversial photo is one out of the three Kensington Palace shared on Monday to mark Prince George's sixth birthday. According to the Daily Mail, soccer is one of the little boy's favorite sports, and the controversial photo was taken during the Women's World Cup in support of the female team, "England Lioness."
The Royal's father, William, is the President of the English Football Association, and the news outlet noted that the young Prince always move around with a soccer ball.
The other photos released has the Prince smiling and showing-off his broken tooth, and in one, he wore a green polo over blue and white striped shorts.
The photos were taken by Middleton, and it's the first time the boy who's third in line to the English throne did not have his birthday portrait taken by a professional photographer.
Prince George joined the Royal family on July 22, 2013, and the world got to meet him when his parents posed with him at the famous steps of the Lindo Wing of St. Theresa's Hospital.
He is a student of Thomas Battersea School in London and will start the second year of lower school when he resumes in September.
The jersey photo is the first controversy of the young Prince's life, but being a Royal, the world can expect more as he grows, after all, uneasy lies the head that wears a crown.
Please fill in your e-mail so we can share with you our top stories!