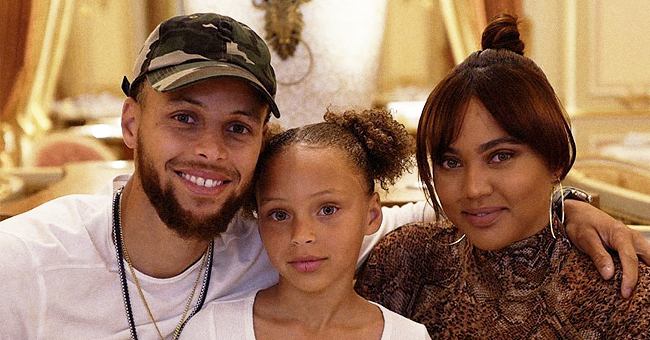 Instagram/stephencurry30
Steph and Ayesha Curry Take Daughter Riley to Paris to Celebrate 7th Birthday

American pro basketball player, Steph Curry, is every bit the doting father as he took to social media to commemorate his lovely daughter, Riley's 7th birthday.
Marking another year spent alive is a widely regarded part of birth milestones. Riley Curry, the oldest child, born to the celebrity couple, Steph and Ayesha Curry, recently clocked seven. The ever doting parents decided to give the youngster a memorable gift she would forever cherish.
A PARISIAN TRIP FOR A WELL-DESERVING BABE
Riley and only Riley got to go on a trip with her parents to Paris, the city of romance! Via his Instagram page, Steph shared a series of photos taken on the memorable vacation. There are nine pictures in total, and it seems like they captured the group of three's total experience.
The very first is a picture of Steph, his wife of nearly eight years, Ayesha and their little girl, Riley. The image can be labeled epic as it featured the Eiffel tower, seemingly so close to the beautiful trio.
The picture has the adorable trio looking downwards at the camera while huddled close for the shot. This position made the famous monument seemed big and a spectacular sight. The picture has a golden hue about it thanks to the bright glow of the sun.
"Un, deux, trois, quatre, cinq, six sept années pour notre petite fille Bon anniversaire!" Steph wrote to caption the photos.
The other shots are no less lovely, and they all feature Riley and her parents at different places, whether sightseeing or just enjoying a meal. The intimacy depicted in the images are quite apparent and even especially more in the photographs of Steph and Ayesha.
RILEY SHOWS OFF HER TALENTS BEHIND THE CAMERA
The pictures have garnered over a million likes even though they are barely one day old. However, it seems that the photo that has become a fan favorite is the very last which features Steph and Ayesha at a fancy restaurant.
In the heartwarming picture, Steph, who wore a matching outfit with wife, had his arm about her with Ayesha's head resting fondly on him. What is however especially charming about the picture is the reflection of little Riley in the mirror which showed that she took the shot.
That threw fans into a frenzy, and many of the comments praised Riley's skillful capture. One fan, @juicedageneral commented:
"Rie is honestly the best photographer. Keep on building brother."
"Love the little photographer's reflection in the last one! Nice work pops!! Looks like memories that will last a lifetime!" said another.
The adorable family pictures, which seem to be everywhere on the internet right now, have many hoping to see more like it.
Please fill in your e-mail so we can share with you our top stories!