Jeremy Roloff's Daughter Ember Goes Berry Picking (Photos)
Looks like Jeremy Roloff's daughter Ember had plenty of fun during her berry-picking adventure! The former "Little People, Big World" star posted a series of photos of his little angel on Instagram, and it was enough to melt fans' hearts.
The former reality star and co-author of the best seller 'A Love Letter Life' took to Instagram and posted a series of pictures of the "cutest berry picker" he'd ever seen. 
"The cutest little berry picker I ever did see. Ember Jean is quite the joy. She's at such a fun age. Learning every day a new word and skill," he captioned the sweet post.
Jeremy also revealed how his daughter can be pushy when she wants to do something with her family.
"She's also quite the little boss when she wants to read a book to you, cook you something in her kitchen or show you how to change her doll's diaper."
The second picture of her carrying a bucket in one hand with the expression that says "job well done" gives her away! Ember is a sprightly little bunch of happiness. 
EMBER'S SIBLING IS ON THE WAY
Jeremy and Audrey are expecting another little bundle of joy in their lives, and fans could not be more excited for an extra dose of cuteness from the family. 
The couple announced the pregnancy on July 2 through Audrey's Instagram. The post featured the couple holding Ember and an ultrasound picture of the new member of the family. 
"Baby #2 is coming in January!!! Ember is gonna be a big sister! We are so grateful and excited for this little blessing to join our family," the expecting mother wrote.
Ember might have a little company when she goes berry-picking next season!
AMY ROLOFF'S LOVE FOR HER "ADVENTUROUS" GRANDDAUGHTER
Meanwhile, fans were not the only ones who were captivated by the cute berry picker--Ember's grandma Amy joined other fans in the comments section with a whole lot of love.
"She is beyond adorable! And you're right. This stage IS wonderful, full of wonder at every corner and it'll only get better," she wrote. "My beautiful curious adventurous girlie amazing grand-daughter. Love these photos. She is growing up too fast."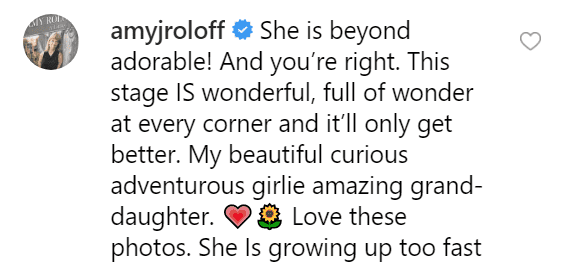 Recently, Amy took off to Michigan to spend a much needed family time with her parents, Gordon Knight, and Patricia Knight.
The visit was very important for the 'Little People, Big World' star since her mother Patricia is fighting a bone infection.