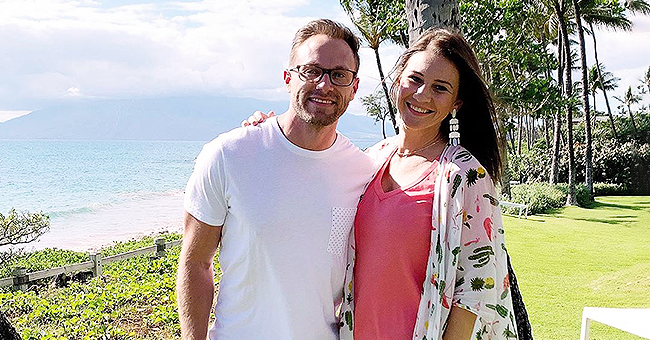 Instagram.com/itsabuzzworld
Danielle Busby of 'OutDaughtered' Once Shared How Husband Adam Failed on Their First Two Dates

On TLC's "OutDaughtered" Adam and Danielle Busby share the ups and downs of raising the first quintuplets born in the United States in 2015.
However, the pair started building their "fairytale" years before even though it got off to a shaky start. Danielle described how they first met on their blog "itsabuzzworld":
"It all started way back in 2003 at one store that I think every woman is addicted to Target! Adam and I fell in love the second our carts collided in the Oreo aisle."
The pair worked together at the chain store's branch in Lake Charles, Louisiana, but it took several months before Adam even spoke to her.
"The first words out of his mouth were 'hey beautiful.' My thoughts at first were, 'oh wow! You never talk to me, and now you're trying to hit on me, real smooth'," Danielle elaborated.
A few weeks later, the two started eating lunch together, which eventually led to Adam asking Danielle out for the first time. The first date ended before it began as Adam blew her off while Danielle got ready to go out.
"I go home to get ready and the phone rings, it's Adam! He basically goes on to tell me he decided to hang out with his boys," she wrote.
While Danielle initially decided that she is "done with him," she later agreed to a second first date for dinner at Casa Mañana!
The evening didn't turn into anything that resembled a dinner date as they first stopped by Adam's house so he could change before they went out.
Without any warning, Adam left Danielle with his parents while he got ready for their date, only to reveal another surprise.
"As we are getting ready to leave his parents say 'Adam are y'all riding with us?' (What?!?!?! I'm confused! We are going on our date with your family!?!?!)," Danielle wrote.
The detail Adam left out is that his family celebrated his sister's birthday that evening. Despite all Adam's missteps, Danielle agreed to officially become his girlfriend the same night.
After two and a half years of dating, Danielle got an engagement ring instead of a "necklace, bracelet or a right-hand ring" on her birthday on Christmas Eve.
"He was so nervous and acting so strange, and he was getting on my nerves because he was acting so weird. Little did I know, he was getting down on one knee at that moment," she explained. "Complete shock to me!"
A short engagement of six months followed until the pair tied the knot on July 22, 2006, in their hometown during an intimate ceremony. "Now 8.5 years later we are still building our fairytale," Danielle wrote in 2019.
Their shared love for children caused Danielle to fall in love with Adam. The reason she stuck around irrespective of the disastrous first two dates, as she told County Living:
"I started to fall in love with [Adam] when I realized how much joy he had for kids, just like I did."
The happy couple welcomed their first daughter, Blayke in 2011, followed by the quintuplets on April 8, 2015. Understandably the two pregnancies are uncomparable.
While she ate for the standard of two during her first pregnancy, Danielle had to eat substantially more during her second pregnancy to sustain herself and her growing brood of five.
Danielle worked with a dietitian and consumed 4,500 calories a day during certain stages of pregnancy and escaped the cravings so many pregnant women struggle with as she told Fit Pregnancy:
"I had not one craving ever because I worked with a dietitian and I was able to eat pretty much whatever I wanted just to fill up that allowance —especially ice cream shakes!"
Since multiple babies born from a single pregnancy are smaller, doctors have to take extra measures after birth to help them survive.
Even then there are no guarantees and Danielle had to face the possibility that all five of her daughters may not survive. Surviving sets of quintuplets are rare and the first ones born known to survive dates back to 1934.
Adam and Danielle's quints spent months in hospital after their birth on April 8, 2015, and it took a week before they could hold their five daughters for the first time.
"It was an emotional downpour," Danielle told TODAY. "It's been hard to see your baby in the isolettes, but that moment where you finally get to touch your baby and hold them, there's no better feeling than that."
The following year the Busby's aired with their reality show "OutDaughtered on TLC and since built not only a loyal following but also those who choose to criticize their parenting.
In July 2019, Danielle Busby clapped back at haters after repeated blows against her and Adam and the choices they make.
Please fill in your e-mail so we can share with you our top stories!