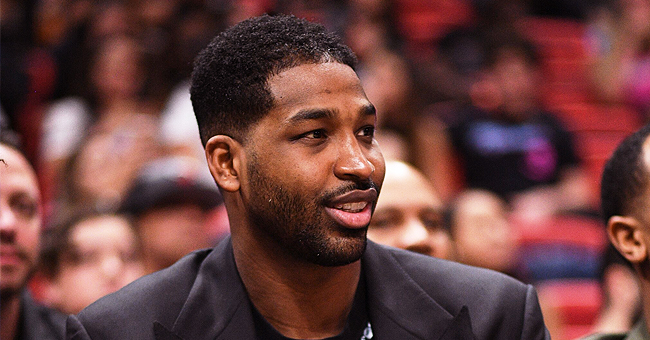 Getty images
Tristan Thompson Shares Rare Pic of Son with Ex Jordan Craig & He Looks Just like Dad

Tristan Thompson is putting the scandals behind him, and concentrating on being a good father to his little son, Prince.
Not so long ago, basketball player Tristan Thompson's personal problems dominated the headlines, as he was caught cheating on Khloé Kardashian with Jordyn Woods.
Ñow, the celebrity is focusing his energy and investing his time in what really matters: being a great dad to his children, and he recently posted an adorable photo of his son Prince, whom he shares with ex Jordan Craig.
"My little Prince is living life [heart eyes emoji]." Tristan Thompson
SUMMER OUTING WITH DADDY
The sweet snap shows little Prince, 2, sitting on a yacht in swimming shorts with his hands behind his head, and a smile on his face.
The photo follows shortly after Thompson was involved in a child support dispute with Craig, during which she accused the basketball player of only having seen his son a handful of times since his birth in December 2016.
Craig revealed that Thompson started seeing Khloé Kardashian when he was still in a relationship with her, and she was carrying Prince.
TRISTAN THOMPSON TO PAY $40,000 IN CHILD SUPPORT
The dispute ended in May 2019, when a judge ruled in Craig's favor, ordering Thompson to pay $40,000 a month in child support, and an additional $200,000 in back payments.
TRISTAN THOMPSON'S CHEATING WAYS
Craig revealed that Thompson started seeing Khloé Kardashian when he was still in a relationship with her, and she was carrying Prince. Then, just days before Khloé was to give birth to their daughter True, Thompson was caught cheating on her with another woman...
KHLOÉ KARDASHIAN STILL HURTS
After True's birth, Khloé and Thompson patched things up, but the worse was still to come.
Thomson hooked up with Kylie Jenner's BFF Jordyn Woods at a Valentine's Day afterparty, and Khloé called it quits.
"For me, Tristan and I broke up not too long ago so it's really raw. So those emotions can be heightened at times but I do everything in my power — True is one and, like, a month old — so she doesn't really know what's happening, but to me she does know and she feels energy and I'm a big believer of that," Khloé said.
Let's hope Thompson does better by his children and gives them the love and attention they deserve,
TRISTAN THOMPSON'S MESSAGE TO KHLOÉ KARDASHIAN
Fans were stunned when Tristan Thompson posted a loving message to his ex Khloé Kardashian on her birthday, June 27.
"Happy birthday @khloekardashian You are the most beautiful human I have ever met inside and out. Thank you for being an amazing mommy to our princess True. She is blessed to have someone like you to look up to. I wish you nothing but more success and sending you positive blessing your way. Enjoy your day Koko ❤️"
Since he is definitely still in the doghouse as far as the K>ardashians are concerned, the effusive message is surprising.
But Khloé has admitted that there are still a lot of "unresolved feelings"... Might this tempestuous couple still get back together?
Please fill in your e-mail so we can share with you our top stories!