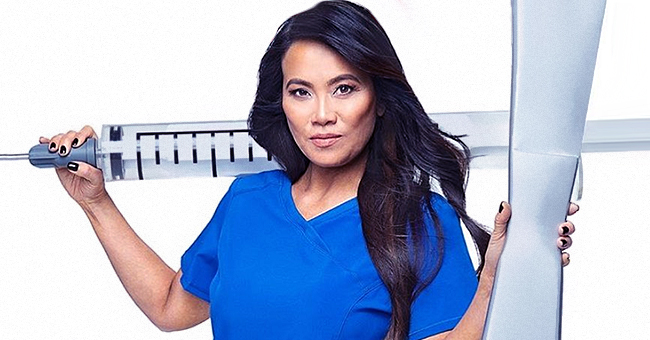 Instagram/drsandralee
Meet 'Dr. Pimple Popper' Sandra Lee's Husband Jeffrey Rebish and Their Teenage Sons
TLC's pimple-popping dermatologist, Sandra Lee's husband is not only her partner in love but in everything, as the power couple grows from strength to strength.
With a shared passion for dermatology, Sandra and Dr. Jeffrey Rebish met during orientation day at medical school in Philadelphia where they enrolled to become dermatologists.
"Sandra walked into the room on orientation day, and I knew right away that she was the one," Jeffrey told Refinery29.
The couple then dated until they got their degrees and moved to Sandra's hometown of Upland, California where they took over her father's dermatology practice.
"Together we took over that practice, and we've been working in our office in Upland — running the business as partners while raising a family — ever since," Jeffrey added.
Working and raising a family together has its challenges, but according to Sandra, the secret lies in their dynamic. "He's the brains, and I'm the personality," Sandra told Distractify. "We complement each other well; we have different things we do at the office."
Even though they both practice dermatology, Jeffrey is the "business guy, more behind-the-scenes," while Sandra takes care of the cosmetic side.
"Botox and fillers, liposuction and eye lifts, and the more complex surgeries you see on TV. It's not what I like to do, but those more theatrical surgeries have always been her specialty," Jeffrey said.
The success behind their blooming partnership also comes from the way they approach day-to-day life and decision making in general.
"We would never be able to work together if I worked for him or if he worked for me. The fact that we work alongside each other [is key] because we know we have each other's best interest at heart," Sandra explained.
Sandra's fame as Dr. Pimple Popper followed in 2014. Jeffrey knows Sandra to be the "kind of person who can't sleep through the night," and Jeffrey figured out what his wife got up to in the middle of the night.
"I thought she was playing video games or something. Come to find out; she was actually posting these videos of her surgeries to YouTube under this alias she created called Dr. Pimple Popper," Jeffrey said.
Jeffrey only found out about the YouTube channel once she started making money from the videos but then "the craziest thing happened."
A media outlet reposted one of Sandra's videos, which went viral. Within a week the subscribers on her YouTube channel grew from about 5,000 to over 80,000 and soon calls from television production companies followed.
Apart from her television show, Sandra also snagged a book deal, brought out a board game and launched her SLMD Skincare range. With Sandra's busy work schedule, the couple learned to adapt to their changing lifestyle.
"The fandom is crazy, and we'll probably have to continue to figure things out as Dr. Pimple Popper grows and evolves. Ultimately, I'll always be involved in any way Sandra needs me to be because we're a team," Jeffrey added.
Even though the couple "definitely discuss work at home," their family life is private and removed from Sandra's success as Dr. Pimple Popper. At home, she's a mother and wife, and even their boys prefer not to watch Sandra on television.
"I don't really watch the show or any of her videos. Not because I'm not supportive; I'd rather not see that stuff outside of the office. Funnily enough, our boys don't watch it either — they actually get mad if we turn it on at dinner," Jeffrey said.
Dr. Pimple Popper's Instagram account has since grown to 3.4 million followers, while her YouTube account gained over 5.5 million subscribers. Sandra is active on YouTube for monetary gain but also because of the win-win situation it creates.
"It's good for my patients that have blackheads because insurance doesn't cover the removal. So, many dermatologists won't remove them. But now, I'll do the extractions for free if my patients let me videotape and use the video," Sandra explained to Forbes in 2016.
Sandra Lee sheds light on a subject otherwise less spoken about unless it involves severe conditions like cancer. While people are often warned against the dangers of skin cancer, new ways of contracting the disease continue to surface.
In 2018, Karolina Jasko, Miss Illinois of that year, opened up about the rare form of skin cancer she allegedly got from "getting gel manicures."
Please fill in your e-mail so we can share with you our top stories!