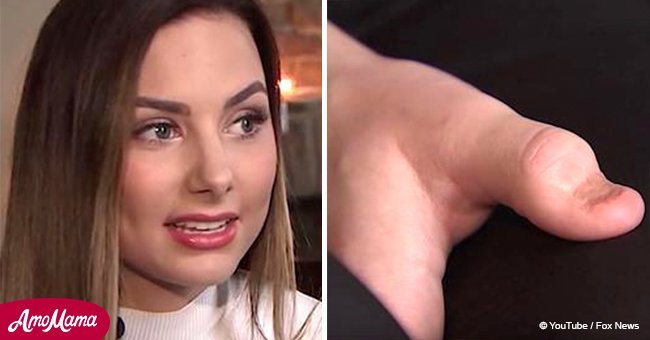 Miss Illinois was told by doctors that she developed skin cancer 'from gel manicures'
20-year-old Karolina Jasko, the current Miss Illinois, is opening about a rare skin cancer which she allegedly developed from 'getting gel manicures.'
The beauty queen noticed a black line on her nail for the first time when she was 18 years old. She examined it with a doctor who diagnosed that she had skin cancer called melanoma.
It is a form of skin cancer that arises when pigment-producing cells, called melanocytes, mutate and become cancerous.
Jasko's cancer has since scarred her thumb and her affected nails are also all gone, according to a report from Fox 32.
She told the online source, "I got a black vertical line under my right fingernail and I never really noticed it because I always had acrylics."
Follow us on Twitter to learn more.
The doctors clearly suggest that she "most likely" got it from getting her nails done at the nail salon, where she might have been exposed to ultraviolet (UV) rays. The device that is used at most salons to cure gel manicures releases UV rays that can harm the skin.
However, Jasko might have been more susceptible to cancer because of her family's history with melanoma.
Her doctor, Carolyn Jacob, who is the director of Chicago Cosmetic Surgery and Dermatology, also told Fox 32, "Whether indoor tanning, UV lamp, outdoor tanning, all of those can cause aging of the skin and potential for skin cancers."
One must adopt several precautionary methods while using light boxes during manicures. Dr. Jacob recommended using sun cream to protect the hands while having gel nails applied.
The doctor also suggested using a sunscreen containing a physical blocker such as zinc oxide or titanium dioxide to cover up the skin.
Currently, Jasko is preparing for the annual Miss USA beauty pageant. The platform provides her with an opportunity to raise awareness about melanoma.
She told the online source that she now gets to talk to a large group of people about the disease because of her Miss Illinois USA title, and it allows her to spread more awareness.
In an interview with UPI, Jasko talked about how early diagnosis was an important part of her recovery. "If I had waited any longer to see a doctor and have my first surgery, the melanoma could have spread through my whole body," she told.
The source also quoted Dr. Shari Lipner, a New York City dermatologist, who explained that melanoma is one of the deadliest forms of skin cancer that can occur anywhere in the body, including the nails.
However, the melanoma in the nail is one of the most overlooked ones as it is not easily noticeable, as was the case with Jasko. This often leads to amputation of the affected finger or toe. In extreme cases, it might even lead to the death of the patient.
Please fill in your e-mail so we can share with you our top stories!