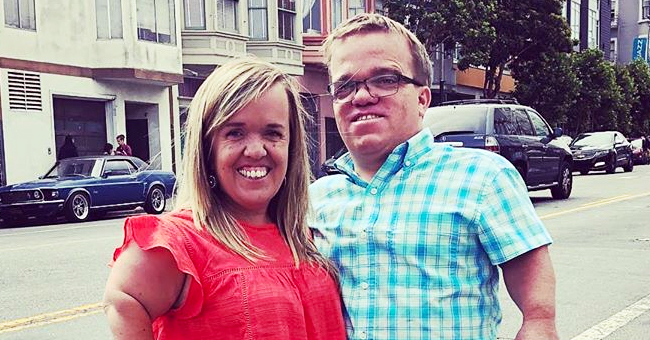 Instagram/team7lj
Amber of '7 Little Johnstons' Pregnancy Struggles before Turning to Adoption

The Johnston's are the largest family of achondroplasia dwarfs. A family born out of love for each other along with Trent and Amber's desire to give children with the same condition their best possible chance at life.
From Barnesville, Ga., the Johnston family call themselves "the real-life seven dwarfs" at no more than 4 ft. tall.
Achondroplasia is a type of dwarfism that affects the extremities, and while Trent came from a family of dwarfs, Amber came into the world as the only dwarf in her normal-sized family.
The couple met at a little people's convention during their teen years and got married in November 1998 after dating for three and a half years. Five months after the love birds said, "I do," Amber fell pregnant with their first child and son.
Because their son's physical development could go either way, Amber and Trent found out during her 31st week of pregnancy that he also has achondroplasia dwarfism.
"We were eager that our children would have dwarfism," Amber explained. "Trent always wanted a son like him, and obviously I wanted a daughter like me – we thought it would mean we could relate to them much better. Every parent wants their child to be like them, and we're no different."
Amber gave birth to their daughter Elizabeth two years later, after a dangerous pregnancy. Her hips frequently dislocated and measured 51 inches in circumference over her 48 inches in length at one stage of the pregnancy.
The couple wanted a big family, but Amber's body couldn't tolerate another pregnancy. Because they knew children with dwarfism often ended up in the adoption system, it became the logical way to make their dream come true.
Trent and Amber then adopted Alex from South Korea, Ana from Siberia, and Emma from China. Their worldwide adoptions earned Amber and Trent the nickname of the "Brad and Angelina of the little people" among those who know them. The couple takes parenting seriously while embracing each child's heritage.
"We feel very honored that comparison has been made," Amber said during an interview with the Mirror in 2015. "I just love babies, I love toddlers, I love children, and now I love being a mum to these teenagers. It's so special."
Various grants helped the Johnstons with the costs of the overseas adoption and make financial ends meet by living within their means and doing what they can themselves.
While dwarfism is considered a disability, the couple doesn't collect disability payments because they don't believe that they are disabled. "I do believe there are little people that are truly disabled," Amber said. "But our family is not."
They believe that teaching their children to adapt in a word "not built for them" will best prepare them for the future. The "7 Little Johnstons" even have standard sized furniture in their home without any modifications.
When Trent is not busy with his main job as the grounds supervisor at a local college, he crafts pedal extensions for dwarfs to help them drive, while Amber heads the local Parent-Teacher Association and Girls Scouts as a stay-at-home mom.
The Johnstons don't let their size define them, and they teach their children to see life from the same perspective. "We tell our kids, 'You're just like everyone else,'" Amber told PEOPLE in 2017. "'You can do things, you can go places, and you can be whoever you want to be.'"
In recent years the Roloff family also helped shed light on how little people experience the world in their hit show on TLC, "Little People Big World."
In 2019, Tori and Zach Roloff celebrated their fourth wedding anniversary. In honor of the special day, Tori took to social media and shared sweet words about the gifts Zach had given her since they got together.
Please fill in your e-mail so we can share with you our top stories!